If you're looking to go low-carb and love Indian food, we've got you. Here are 20+ delicious Low Carb Indian Vegetarian recipes! These recipes are made using fresh seasonal, low-carb veggies and homemade paneer - Indian cottage cheese. These recipes will make eating low-carb not only easy but insanely delicious!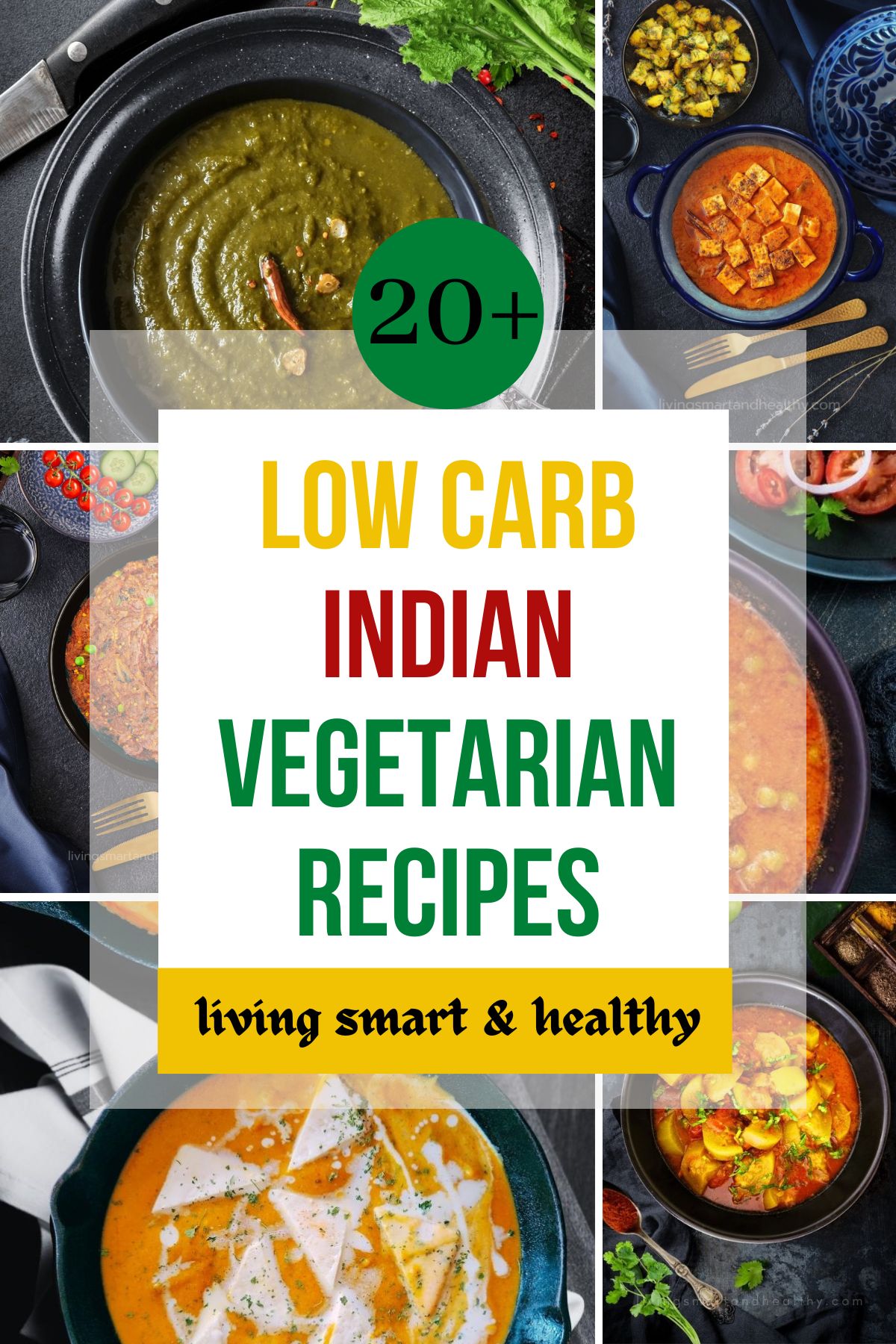 What is a low-carb diet?
Low-carbohydrate diets restrict carbohydrate consumption relative to the average diet. Foods high in carbohydrates are limited, and replaced with foods containing a higher percentage of fat and protein and low carbohydrate foods. High-carb foods like sugar, bread, and pasta are replaced by meat, poultry, fish, eggs, cheese, nuts, seeds, and leafy and fibrous veggies like spinach, kale, and chard.
Low-carb Indian Vegetarian Recipes
A low-carb diet is a lifestyle choice, many of us follow. I try to eat low-carb foods. Most Indian meals are served with some kind of rice, roti, or paratha, which are not low-carb foods. With fewer changes like swapping regular white rice with low-carb cauliflower rice or whole wheat roti with almond flour or low-carb bread, one can enjoy low-carb Indian foods.
In this blog post, I am sharing 20+ low-carb Indian vegetarian dishes comprised of fresh, low-carb veggies like leafy greens, cauliflower, eggplant, okra, squash, mushrooms, paneer - Indian cottage cheese. I like to serve these dishes with low-carb cauliflower rice or almond flour roti.
These low-carb Indian recipes include some of the restaurant classics and some traditional homestyle dishes. Make sure to bookmark this page as I will be adding new recipes to this collection.
If you are looking for high-protein recipes, check out my post about 21 High Protein Indian Vegan Recipes
Low-Carb Indian Vegetarian Recipes
Here are 20+ low-carb Indian vegetarian dishes that are hearty, full of flavors, and easy to make. These recipes are made using fresh seasonal, low-carb veggies like spinach, mustard greens, kale, cauliflower, eggplant, okra, squash, mushrooms, and green peas. For protein, I like to use homemade paneer - Indian cottage cheese. I like to serve these dishes with low-carb cauliflower rice or almond flour roti for a complete meal.
Gobi Matar Masala
A humble Indian curry made with cauliflower and peas and all the quintessential flavors of Indian cuisine – Gobi Matar Masala!
How To Make Paneer At Home
Paneer is quite versatile and can be used in many Indian dishes, from savory to sweet, for making curries, or for grilling. Paneer is perfect for grilling as it does not melt.
Kashmiri Paneer Masala
Kashmiri Paneer Masala is a popular dish from the North India. A very simple and mild preparation of paneer dish, that uses whole spices, a few aromatics, and simmered in a tomato puree.
Baingan Bharta
Baingan bharta is a delectable vegetarian eggplant dish made with loads of vegetables, spices, and a smokey flavor. Easy to make and hard to resist this Indian roasted eggplant dish is a resemblance to Baba Ghanoush, a Mediterranean dip.
Sarson Ka Saag
Make this classic Indian dish Sarson Ka Saag in an Instant Pot or pressure cooker in no time! Enjoy Sarson ka saag with some low-carb almond roti, and a dollop of ghee!
Baingan Tamatar Ki Sabzi
A delicious vegan and gluten-free recipe from India – Baingan tamatar ki sabzi. A quick and easy eggplant curry that can be served as a main dish or a side.
Baked Bhindi Fry [Okra Fry]
Fact is full of nutrients and easy to make, I make okra quite often. It is one of the fastest-cooking vegetables and delicious tasting too. This baked okra is perfect for a family of four or to feed a crowd. Simple recipe, with minimum ingredients and outstanding results.
Paneer Butter Masala
Paneer Butter Masala or Makhani Paneer in which fresh paneer (Indian cottage cheese) cubes are cooked in a flavorful tomato-onion-cashew gravy. Mildly spiced, velvety, and creamy this paneer butter masala is pure, divine Indian food at its BEST!
Lauki Ki SabjAUKI KI SABJI
Lauki is quite similar to zucchini, except it is firm from the outside. It is a versatile vegetable, that can be used in sweet to savory dishes.
Paneer In Veggie Sauce
Paneer in the veggie sauce is a delicious Indian curry made with colorful veggies and paneer. Luscious and rich paneer with velvety smooth sauce, soft cubes of paneer, and a ton of flavors. One of the best Paneer dishes!
Mushroom Matar Masala
The secret to this delicious Mushroom Matar Masala is the blended masala. After a long day at work, I need shortcuts, and this blended masala comes to the rescue.
Air Fryer Frozen Okra
You can make this amazing dish in an air fryer in under 30 minutes with a handful of spices and just one simple vegetable- frozen okra.
Haryani Kadhi
A simple soup-based kadhi made with besan (chickpea flour) and a few spices. Occasionally, it is cooked with farm-fresh green leafy vegetables like green bathua leaves or kachri (small wild melons).
Kale Sarson Ka Saag
A healthy preparation of greens, made with a combination of kale and mustard greens. Leafy vegetables are cooked and then tempered with some onion, garlic, and some Indian spices in ghee[clarified butter] or oil.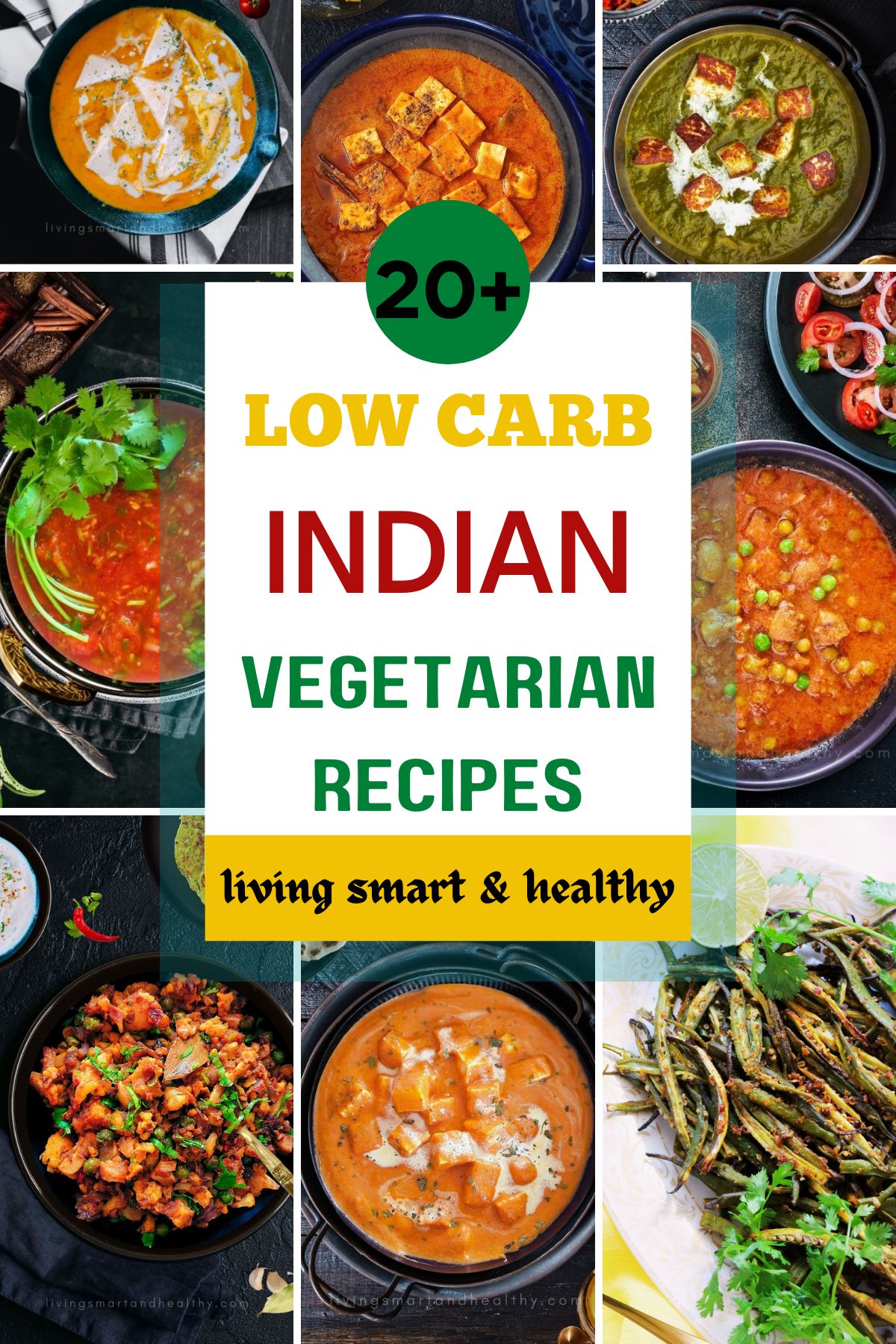 Instant Pot Palak Paneer
A simple, flavorful way of incorporating green leafy vegetables, and protein, paneer (Indian cottage cheese), makes it a highly nutritious power-packed meal. Made with a handful of ingredients, this dish is ready in no time.
Tomato Chokha
Smoky, lip-smacking tomato chokha, made with fire-roasted tomatoes, herbs, and mustard oil. Traditionally, served with Litti, a stuffed roasted dough ball. I like to serve tomato chokha with almond roti.
Coriander Mint Chutney [Green Chutney]
Coriander Mint Chutney or Green Chutney is a very popular chutney recipe from Indian Cuisine. It is one of the most basic chutney recipes accompanied by many Indian dishes.
Sindhi Tomato Kadhi
The flavors from different vegetables blend in kadhi amazingly. Truly, it is the BEST kadhi.
Bharwa Bhindi
I have shared different ways to make the stuffing in the blog post. Be generous with the stuffing, as all the flavors in this dish mainly come from the stuffing mix (Bharwa Masala).
Methi Aur Mooli Ki Sabzi
Amazing taste, flavor, and healthy, Methi Aur Mooli Ki Sabzi is one of my family's favorite dishes.
Air Fryer Baingan Fry [Eggplant]
This is a simple and flavorful dish made with eggplant and some basic Indian spices.
Lauki Kofta Curry
These koftas taste great immersed in the sauce, and make a great healthy snack or appetizer too. I like to make a big batch of koftas. Add some koftas to the curry, and enjoy some as an appetizer.
Tomato Carrot Beetroot Soup
Fresh ingredients used in the making of this soup add soothing flavors and balanced nutritional values to this soup. Great comfort soup for any time of the year!!
Homemade Ghee
Homemade ghee is economical and easy to make. Learn how to make ghee step by step in this post. I have shared all the tips that will help you achieve the best quality ghee at home. The post includes how to store this golden liquid ghee and ways to incorporate it into your diet.
TRIED THIS RECIPE?
Hope you enjoy these low-carb Indian vegetarian recipes!! If you give this recipe a try, please rate the recipe by clicking the stars
on the recipe card. Leave a comment and share your experience. Thank you
You can also follow me on Facebook, Pinterest, and Instagram for all the latest on my blog!! Subscribe to my Youtube Channel for easy and delicious video recipes. Happy Cooking!!
RELATED POSTS
Top 25 Most Popular Recipes of 2022!
21 High-Protein Indian Vegan Recipes