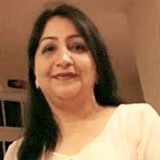 Hello! My name is Jyoti and I'm the writer, food lover, cook, recipe developer, and self-taught photographer behind this blog. I'm a mother of two beautiful kids and a wife to a loving and caring husband. Welcome to my blog, my journey Living Smart and Healthy!
The Inspiration:
I started my food blog in 2018 as a way to share my love for cooking with others. This is my happy place. I have always enjoyed trying new recipes and experimenting with different ingredients, and I wanted to create a platform where I could share my passion with a wider audience.
One of the things I love most about food blogging is the opportunity to connect with other food lovers and home cooks from all over the world. I enjoy hearing from my readers and learning about their experiences with my recipes.
The Vision:
My goal is to create recipes that are approachable, delicious, and inspired by a variety of culinary traditions from around the world. Exploring different cuisines and ingredients is a great way to expand our culinary horizons and create new and exciting dishes in the kitchen.
My aim is to inspire and encourage others to get into the kitchen and start cooking. I believe cooking at home can be a fun and rewarding experience and anyone can learn to create delicious meals with some practice and guidance.
What you will find here:
On my blog, you will find a variety of recipes ranging from quick and easy weeknight dinners to more complex dishes for special occasions. I love using fresh, seasonal ingredients and incorporating different cultural influences into my cooking.
I love the bold flavors and spices used in Indian cuisine, and I enjoy creating my own versions of classic dishes such as Dal Makhani, Chana Masala, and Palak Paneer. I also enjoy experimenting with lesser-known Indian dishes and ingredients, such as Broccoli Aloo
In addition to Indian cuisine, I also enjoy exploring other global cuisines and incorporating those flavors into my cooking. Some of my favorite global dishes to make include Chicken Marsala, Chinese Fried Rice, and Mexican Black Beans.
I believe every family has their own set of treasured recipes passed down from generation to generation. These recipes are often tied to family traditions and memories, and they hold a special place in our hearts. I love sharing these treasured recipes as well on my blog. Here are a few family recipes: Sindhi Tomato Kadhi, Sai Bhaji, and Sindhi Dal Pakwan.
I like to create and share healthy recipes that are both delicious and nutritious. Here are some examples of the types of healthy recipes you might find on my blog: Air Fryer Pani Puri, No Fry Gujiya, and Air Fryer Chicken Nuggets.
I believe that whole, unprocessed foods are the foundation of a healthy diet. Many of my recipes feature whole grains, lean proteins, and plenty of fruits and vegetables. I also enjoy creating recipes that use minimally processed ingredients, such as homemade nut milk and condiments.
I love cooking with veggies, and many of my recipes are vegetarian or vegan. I enjoy experimenting with different plant-based proteins, such as tofu, tempeh, and legumes, and I also love incorporating plenty of colorful fruits and vegetables into my recipes.
For readers who are following a low-carb diet, I offer a variety of recipes that are low in carbohydrates and high in protein and healthy fats. These recipes often feature lean proteins, such as chicken and fish, as well as healthy fats, such as avocado and nuts.
I understand that many readers have dietary restrictions, such as gluten intolerance, and I offer a variety of gluten-free recipes on my blog. These recipes often feature gluten-free grains, such as quinoa, brown rice, and plenty of fruits and vegetables.
In addition to recipes, I also share cooking tips and techniques, as well as product reviews and recommendations for kitchen tools and appliances. I want to help my readers become more confident and skilled in the kitchen so that they can enjoy cooking and eating delicious food as much as I do.
What do I do when I am not blogging:
Blogging is my passion, my bread and butter. In addition to blogging, I enjoy gardening. I have a small garden where I grow fruits and vegetables. Last year, we had a massive harvest of tomatoes, around 80 pounds! Even after sharing with friends and family, I was still left with enough to make my favorite Tomato Ketchup. I ended up making a year's worth of supply, we just finished all last week.
Besides blogging and gardening, I like to read books, and sometimes I listen to audiobooks also. When the weather is nice I like to go hiking with my family, or small picnic by the lake nearby. I just love to connect with nature, explore new places, and enjoy family time!
Connect with Me:
In addition to my blog, I also share my recipes and food photos on social media platforms such as Facebook, Pinterest, Youtube and Instagram. I love connecting with my followers and sharing behind-the-scenes glimpses of my kitchen adventures.
Overall, my goal as a food blogger is to inspire and encourage others to cook at home and to have fun in the kitchen. I hope that my blog can be a resource for home cooks everywhere and that my recipes and cooking tips can help make the process of cooking and meal planning easier and more enjoyable.
Life's motto:
Life is beautiful! Live, Love, Inspire!
If you have any questions please feel free to email to me at [email protected] or use the Contact Form
Thank you for visiting my blog, and I hope you find some inspiration for your next meal!