A roundup of 21 fantastic vegan Indian recipes to enjoy during Veganuary month. These recipes are protein-packed, so easy to make, budget-friendly, and absolute crowd-pleasers.

High-Protein Indian Vegan Recipes
Comes January and I am back to my vegan, plant-based diet. After enjoying all the scrumptious foods during the holidays, it's time for detox. I love reaching out to these protein-packed vegan meals. These high-in-protein meals satisfy my hunger and keep me satiated for a longer time.
Whether you are celebrating Veganuary or just want to eat healthy, these protein-packed Indian vegan meals will boost your metabolism and help you lose weight.
To kick off the New Year, I've rounded 21 high-in-protein Indian vegan recipes. These recipes are easy to make, delicious, and hearty. You're sure to love these delicious Indian vegan recipes! If you try any of my recipes, do share your valuable feedback, it means a lot to me. Thank you!
Looking for some more Indian recipes? Check out 30+ amazing Indian winter recipes and many more from the blog.
Mixed Sprouts Curry
A wholesome and highly nutritious recipe that is naturally vegan and gluten-free. This dish goes well with plain rice, or with gluten-free jowar roti or chapati. It makes a hearty meal, perfect for cold, wintery days. The curry has a thin soupy consistency or gravy, as we call in Hindi "Tari".
I used the guide "How to grow sprouts – lentils and beans" to sprout the lentils & beans.
Methi Chole [Fenugreek Chana Masala]
A healthy and delicious way to enjoy your greens and proteins in this comforting fenugreek leaves and chickpeas preparation. Delicious, easy to make, and a great source of fiber and protein. This recipe is gluten-free and is ready in about 40 minutes.
Lehsuni Moong Dal [Garlicky Green Lentils]
This is one of my go-to dal recipes. It's quick & easy, perfect for a lazy weekend or busy weekdays. Nutritious and flavorful dal is made with just a handful of ingredients and requires very minimal prep work.
Nav Dhan Dal
I grew up eating dal every single day. My mom used to make different types of dals. I love to include a variety of beans and lentils in my diet. I am pleasantly surprised with the flavors and the texture of this Nav Dhan Dal.
Enjoy this nutritious, flavorful, aromatic dal with some Tandoori roti, paratha, or phulka, some salad, and a tall glass of lassi (buttermilk). I like to serve some dry subji like bhindi fry, methi aloo, aloo tuk, or baingan fry along with dal.
Sindhi Sai Bhaji [Spinach Dal]
Sindhi Sai Bhaji or Spinach dal is a power pack of wholesome nutrients. Spinach and lentils give a nice balance of nutrients to this dish. "Sai" in Sindhi means "green" and "bhaji" means "vegetables".
Sabut Moong dal [Green Moong Dal]
This is a classic North-Indian style green moong dal, also known as "sabut moong dal" in Hindi. Being a north Indian, I grew up devouring this moong dal.
Lobia Masala [Black-eyed peas curry]
We all enjoy this simple, yet nutritious preparation of curry, rich in protein and fiber. I remember, sometimes my mom used to also add some greens to make it more healthy and delicious. I love lobia masala with steamed white rice and some roti on the side.
Nav Dhan Masala Dosa
This dosa is made with a combination of 9 beans mix, quinoa, and lentils. Making this dosa fiber and protein-rich. Nav Dhan dosa can be enjoyed plain or with some potato stuffing. Either way, this dosa tastes amazing!!
Sindhi Dal Pakwan [Chana Dal]
I prepare Dal pakwan, occasionally to treat my family. With little planning you can make some amazing dishes, that will surely bring a smile to everyone's face. And the best part of this dish is that you can make this dal pakwan using pantry ingredients.
Kala Chana
We all enjoy this simple, yet nutritious preparation of curry made with chana, rich in protein and fiber. I love chana with steamed white rice and some roti on the side.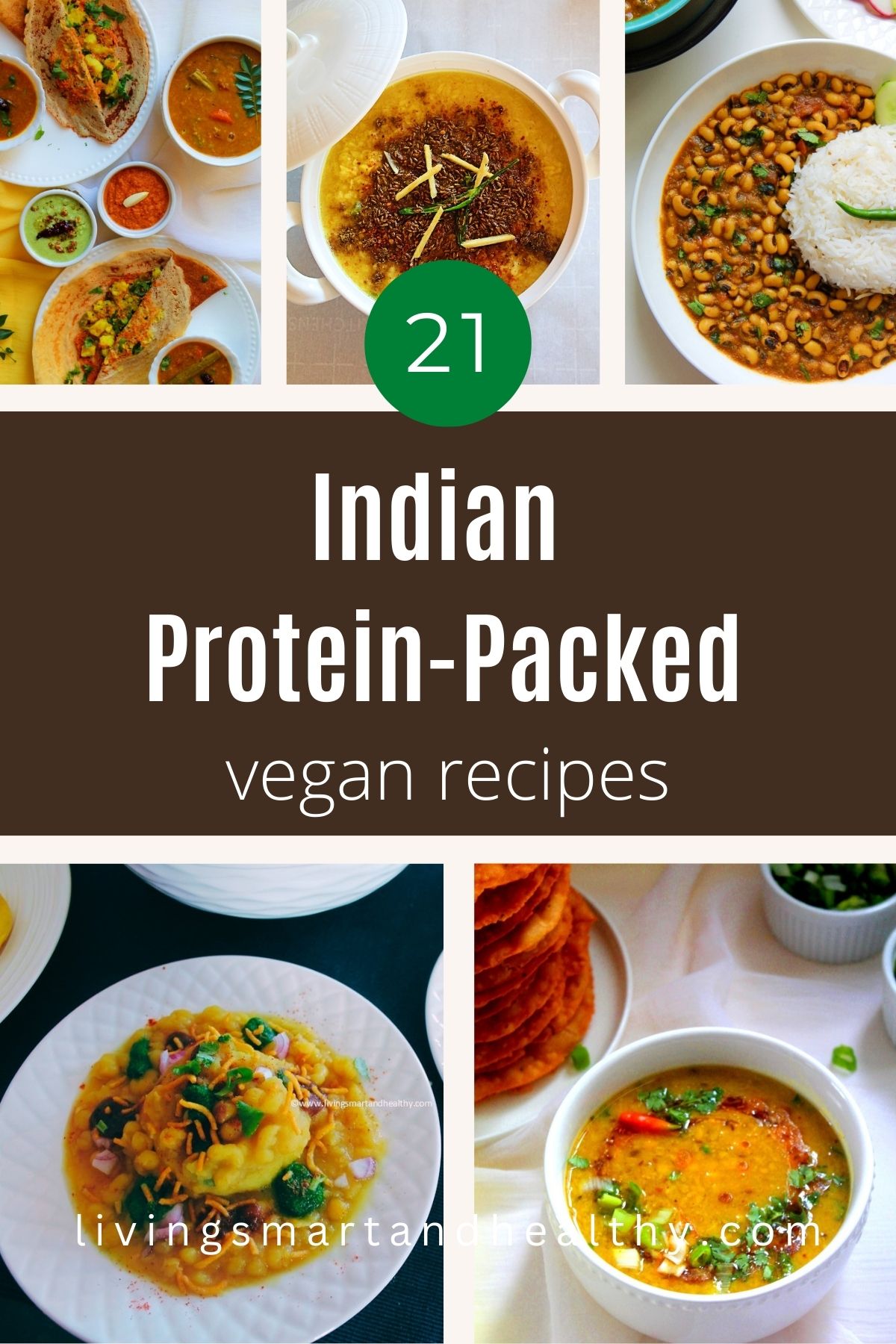 Mixed Lentils Dosa
Dosa makes an excellent breakfast/brunch, lunch, or even dinner for a completely well-balanced meal. Serve this dosa with some Tiffin Sambar and Coconut Chutney
Tiffin Sambar
Tiffin sambar is a quick and easy restaurant-style sambar, the perfect accompaniment to many South Indian dishes. Sambar is a lentil-based curry, with a stew-like consistency, made with lentils, a blend of vegetables, and aromatic spices.
Chana Masala
Enjoy this thick, stew-like consistency curry that's an extremely flavorful, easy, one-pot meal, with the perfect blend of spices, and a completely hearty, healthy plant-based meal.
Quinoa Mysore Masala Dosa
Mysore masala dosa is a spicier version of masala dosa. Mysore Masala Dosa is popular for its spicy, hot Red Chutney, known as Mysore Masala dosa chutney. This spicy, hot red chutney is smeared inside the dosa and stuffed with classic potato filling
Cranberry Sambar
I love to experiment with my food. And Cranberry Sambar is one of the experiments I did when I ran out of tamarind to add to this sambar. Traditionally, tamarind is added to the sambar for a nice tangy flavor.
I added a handful of fresh cranberries to the sambar. And was thrilled with the amazing taste of cranberries added to this sambar. The flavors of cranberries blend in sambar so well and gave a perfect tanginess to sambar!!
Dal Makhani
Dal Makhani is also known as Madras Lentils. Makhani or makhni means "creamy" in Hindi. This dal makani happens to be one of the most popular dals served in Indian restaurants around the globe. This restaurant-style creamy, flavorful, aromatic Dal Makhani is very easy to make at home.
Mumbai Style Ragda Pattice
Crispy aloo tikki (pattice/patties) served with some ragda (white peas curry), loaded with various sweet, tangy, and spicy chutneys (condiments), and garnished with some sev, fresh cilantro, onion, and a dash of lime, makes this chaat so flavorsome and delightful!
Sindhi Makhani Moong Dal [Split Petite Yellow Lentils]
Makhani Moong Dal is a quick and easy, flavorful, creamy lentil without any added cream. Whenever I am under the weather or when I just don't feel like cooking, this recipe comes in so handy. It is a great comfort food!!
Sindhi Tidali Dal [Three Lentils]
Tidali or tridaali means three lentils in Sindhi. Tidali dal is a popular lentil recipe from Sindhi, Indian cuisine. It is made with a combination of three lentils. The combination of three lentils makes this Tidali dal so unique and flavorful.
Rajma Masala
It is a highly nutritious, delicious, one-pot meal. Excellent protein-rich diet for vegetarians, and is great for meatless options as well. Rajma Masala is typically served over steamed white rice. This recipe is vegan and gluten-free.
Quinoa Idli
Idli is served in Indian restaurants around the globe and is much loved by all ages. Serve this quinoa idli with some sambar and coconut chutney for a complete power-packed, healthy meal. This recipe is gluten-free and vegan.
TRIED THIS RECIPE?
Hope you enjoy these recipes!! If you give this recipe a try, please rate the recipe by clicking the stars
on the recipe card. Leave a comment and share your experience. Thank you
You can also follow me on Facebook, Pinterest, and Instagram for all the latest on my blog!! Subscribe to my Youtube Channel for easy and delicious video recipes. Happy Cooking!!
RELATED POSTS