Here's an amazing collection of 30+ popular Indian Winter recipes that one must try this winter! This recipe roundup includes the best recipes that are comforting and made with fresh produce. All these recipes are tried, shared, and much loved by my readers!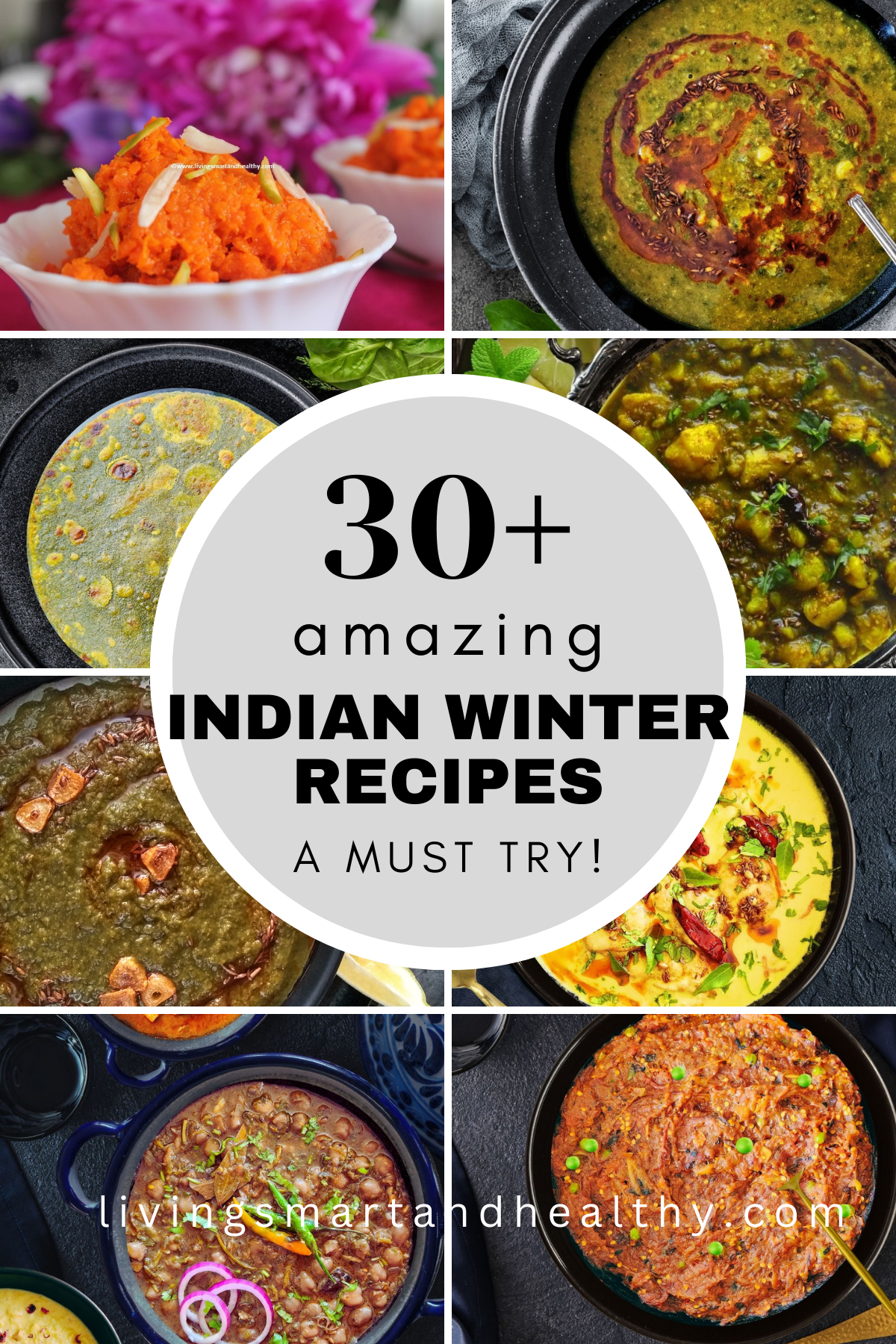 Indian Winter Recipes
This roundup features a wide range of recipes from appetizers, nourishing breakfasts, effortless main courses & side dishes, and decadent desserts. You can find these and many more on my blog – livingsmartandhealthy.com
I have mainly included recipes that are made using fresh produce during winter. But, I have a ton of recipes that are comforting like Dal Makhani, Tidali Dal, or Sambar that would be a great addition to your winter menu.
Hope you will enjoy these 30+ amazing Indian winter recipes and many more from the blog. If you try any of my recipes, do share your valuable feedback, it means a lot to me. Thank you!
Snacks | Appetizers
Baked Methi Mathri
Crispy Methi Mathri is the perfect tea-time snack! It is a popular Indian snack, flavored with dried fenugreek, and is traditionally deep-fried.
Mumbai Style Ragda Pattice
Crispy aloo tikki (patties) served with some ragda (white peas curry), loaded with various sweet, tangy, and spicy chutneys (condiments) and garnished with some sev, fresh cilantro, onion, and a dash of lime, makes this chaat so flavorsome and delightful!
Breakfasts
Meetha Daliya
Meetha (sweet) daliya or cracked (broken) wheat porridge is a sweet, creamy, nutty, delicious recipe made using cracked (broken) wheat or daliya, milk, and jaggery or sugar. Flavored with green cardamon, nuts such as almonds and raisins enhance this dish's taste and nutritional value. Meetha (sweet) daliya or cracked (broken) wheat porridge makes an excellent breakfast as well as a great healthy dessert.
Main Course
Sindhi Sai Bhaji
Sai bhaji or spinach dal is one of the popular dishes from Sindhi/Indian Cuisine. Sindhi cuisine is known for its rich and nutritional food. Sindhi Sai Bhaji or Spinach dal is a power pack of wholesome nutrients. Spinach and lentils give a nice balance of nutrients to this dish. "Sai" in Sindhi means "green" and "bhaji" means "vegetables".
Methi Chole
Chickpeas and fresh fenugreek leave curry are delicious, easy to make, and a great source of fiber and protein. This recipe is gluten-free and is ready in about 40 minutes.
Sarson Ka Saag
Make this classic Indian dish Sarson Ka Saag in an Instant Pot or pressure cooker in no time! Enjoy Sarson ka saag with some Makki ki roti, and a dollop of ghee!
Sindhi Tomato Kadhi
One of the most satisfying and comforting meals – is Sindhi Tomato Kadhi. A perfect meal for cold, wintery days!
Hyderabadi Dahi Ki Kadhi
Hyderabadi Dahi Ki Kadhi is a popular dish from Hyderabad, India. It's a yogurt-based thick, soupy consistency kadhi with chickpeas flour fritters or pakoras, seasoned with some aromatic Indian spices and served over steamed rice. Great comfort food for a cold, wintry night.
Kale Sarson Ka Saag
This healthy preparation of greens is made with a combination of kale and mustard greens. Leafy vegetables are cooked and then tempered with onion, garlic, and Indian spices in ghee[clarified butter] or oil. I like to add some mustard oil in addition to ghee. The pungent flavor of mustard oil, adds a ton of flavor to this dish.
Lehsuni Moong Dal
Lehsuni moong dal is a comforting, healthy, and delicious lentil recipe from Sindhi, Indian cuisine. It is quick, easy, and full of nutrition! It's light but still filling.
Mathura Ke Dubki Wale Aloo
This hot and spicy curry is relished with some Khasta poori or Kachori. A very different preparation of aloo curry, with simple pantry ingredients and some fresh herbs that give this dish an aromatic, lip-smacking flavor.
Palak Paneer
Palak Paneer is a classic paneer dish from North Indian cuisine. It is one of the most popular Paneer dishes served in Indian restaurants around the globe. Palak Paneer is called a vegetarian delight.
Methi Aur Mooli Ki Sabzi
This Methi Aur Mooli Ki Sabzi is prepared with mildly flavored, tender Daikon leaves, Fenugreek leaves, and Daikon radish and is served with some Indian flatbread.
Baingan Ka Bharta
Baingan bharta is a delectable vegetarian eggplant dish made with loads of vegetables, spices, and a Smokey flavor.
Haryanvi Kadhi
Haryanvi kadhi is a simple soup-based kadhi made with besan (chickpea flour) and a few spices. Sometimes it is cooked with farm-fresh green leafy vegetables like green bathua leaves or kachri, small wild melons. Haryanvi kadhi is served with a generous dollop of fresh homemade ghee and some jaggery or sugar.
Bihari Baingan Chokha
Baingan chokha or Bharta is a smoky relish made with fire-roasted eggplant, some herbs, and mustard oil. It is traditionally, served with Litti, a stuffed roasted dough ball.
Tomato Chokha
Litti-chokha is a popular dish in North Indian cuisine. Chokha is made with one or a combination of veggies. Fire-roasted veggies are mashed, flavored with some fresh herbs, and spices, and drizzled with some mustard oil, to give chokha a robust flavor.
Side Dishes
Aloo Suva
These potatoes are crispy with a bold dill (Suva) flavor. Easy, a flavorful, one-pot dish where potatoes are pan-fried until crisp, and then tossed with fresh dill leaves and a handful of spices.
Sindhi Methi Aloo
This methi aloo is a simple yet tasty Indian stir fry packed with flavors and nutrition. A very popular and winning combo of humble potatoes and earthy greens.
Rice | Khichdi | Pulao
Daliya Khichdi
Simple, yet nourishing, this khichdi is a wholesome meal and one of the comfort foods in Indian cuisine. This Dalia Khichdi is typically served with plain yogurt, papad, and some pickle on the side.
Roti | Paratha
Tofu Palak Paratha
Enjoy this tofu palak paratha, protein-rich, delicious flatbread, perfect for breakfast or brunch. Every bite of this paratha will be scrumptious!!
Microgreens Methi Thepla
Microgreens methi thepla are truly amazing and are so addictive. Munch on these healthy microgreens methi thepla any time of the day!!
Palak Paratha
Loaded with "Green-Goodness", this healthy palak paratha is a delicious Indian flatbread made with spinach and whole wheat flour.
Multigrain Methi Thepla
These multigrain methi theplas are adaptable and perfect for any time of the day. They are nutritious with an earthy flavor. Serve this healthy and delicious thepla with some pickle, chutney, and a cup of hot chai.
Makki Ki Roti
Makki ki roti is generally made during winter and is often accompanied by Sarson ka saag [mustard greens], any leafy greens, or even some daal. It is served with a dollop of ghee or butter, gud [jaggery], and pickle.
Chutneys | Condiments
Hare Lehsun Ki Chutney
Green garlic cilantro chutney or as we call it "Hare lehsun ki chutney" in Hindi is a delicious, lip-smacking chutney from Indian cuisine.
Tomato Chutney
The bold flavors of whole spices, the tanginess from the ripe tomatoes, and just the right amount of sweetness, give this chutney a very distinct and balanced flavor and taste.
Desserts
Gajar Ka Halwa
With just the four basic ingredients, you can make this delicacy in no time using an Instant Pot. The simplicity of this dessert is what makes it so rich, flavorful, and delicious
Til Ke Laddu
Winters would be incomplete without this melt-in-mouth, delightful laddus. Til laddu is a must, especially during Makar Sankranti.
Sooji Ka Halwa
In less than 20 minutes, make this delicious halwa with just 3-ingredients! This recipe is make-ahead and freezer-friendly.
No-Grate Gajar Ka Halwa
This easy, no-grate recipe has now become our new family favorite. It takes hardly any time to make this delicacy without all the laborious work. Now, I can make gajar ka halwa without standing in the kitchen for hours.
Sweet Potato Halwa
Rich in nutrients and low in calories, this sweet potato halwa makes a great dessert or a side dish that can be enjoyed anytime. Easy, delicious, and healthy dessert made with just a few basic ingredients. This halwa is so rich, flavorful, and delicious!
TRIED THIS RECIPE?
Hope you enjoy these recipes!! If you give this recipe a try, please rate the recipe by clicking the stars
on the recipe card. Leave a comment and share your experience. Thank you
You can also follow me on Facebook, Pinterest, and Instagram for all the latest on my blog!! Subscribe to my Youtube Channel for easy and delicious video recipes. Happy Cooking!!