Baingan Bharta Recipe! Indulge in the smoky goodness of roasted eggplant Indian recipe combined with aromatic spices, in this flavorful vegan dish. Perfect for a satisfying and wholesome meal!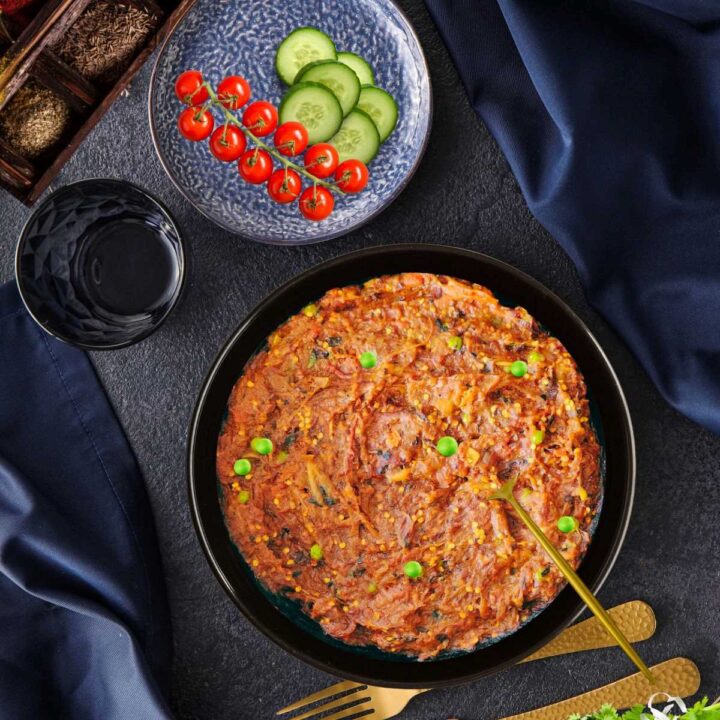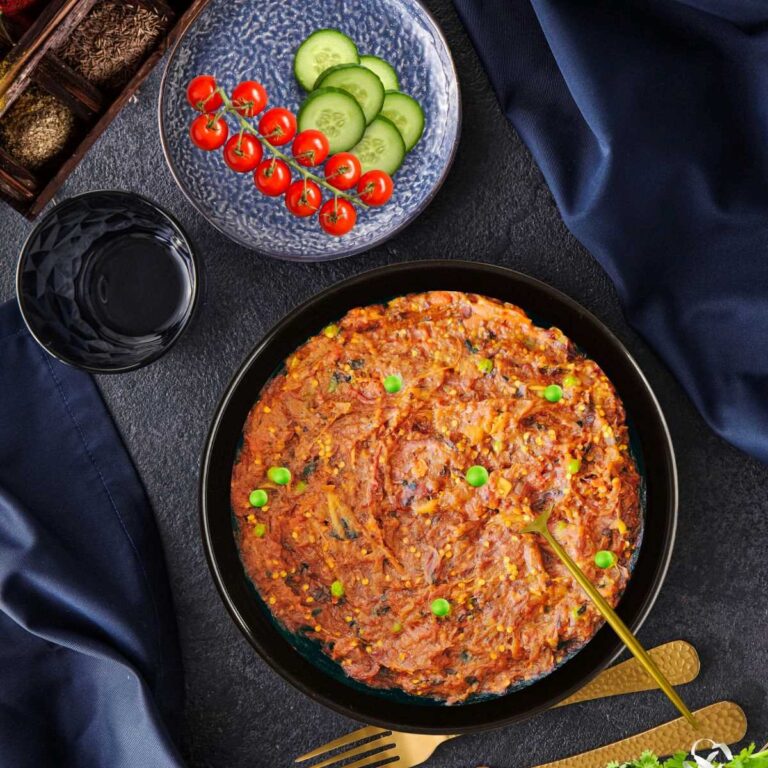 Whether you're a fan of Indian cuisine or looking to explore new flavors, this Indian Eggplant Recipe is a dish that promises a satisfying and fulfilling experience for your taste buds. Its distinctive smokiness and rich flavors make it a beloved choice for vegetarians and non-vegetarians alike.
There are different ways of making eggplant indian recipe. My mom made bharta by roasting the eggplant on fire, cooked in fire-roasted along with some onion-tomato masala and some spices. This is similar to what you will get at any Indian restaurant.
In my in-law's region of Uttar Pradesh, Baingan Bharta takes on a unique variation. Baingan Chokha, a delightful dish from Uttar Pradesh, features fire-roasted eggplant blended with raw onions, garlic, spices, and a touch of mustard oil. Resulting in a flavorful and rustic mash that is simply irresistible. This flavorful eggplant mash bears resemblance to the popular Baba Ghanoush.
Apart from its delicious taste, eggplant indian recipe also offers several health benefits. Eggplant is a good source of dietary fiber, vitamins, and minerals. It is low in calories and rich in antioxidants, making it a nutritious addition to a balanced diet.
Baingan Bharta Recipe: Indian Roasted Mashed Eggplant
Baingan Bharta is a tasty vegetarian Indian dish made with roasted eggplant and a blend of spices. It's a favorite among food lovers due to its creamy texture and smoky flavor.
To make Indian Eggplant Recipes, the eggplant is roasted until the skin is charred, to give it a unique smoky taste. After roasting, it is mashed and combined with various spices like cumin, coriander, turmeric, and garam masala, along with onions, tomatoes, garlic, and ginger. The mixture is then simmered until the flavors meld together, resulting in a delicious and satisfying dish.
Baingan Bharta is a versatile dish that can be enjoyed as a main course with roti or rice, or as a side dish to other curries and accompaniments.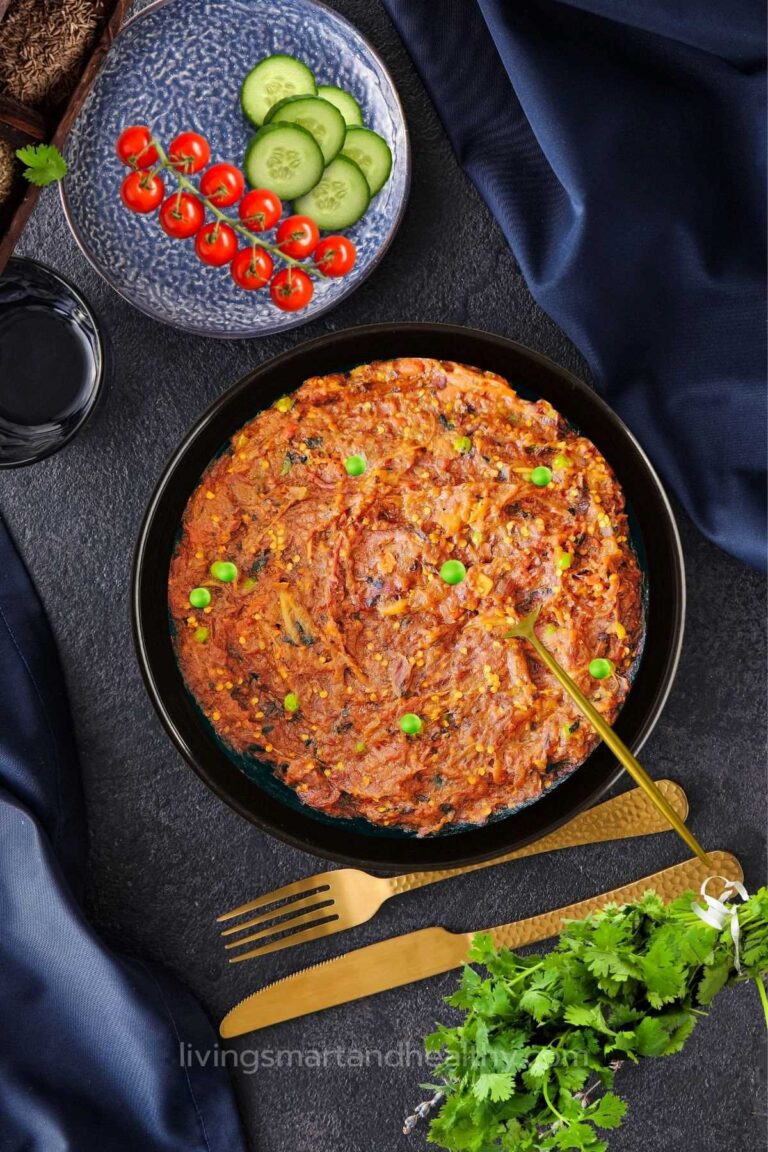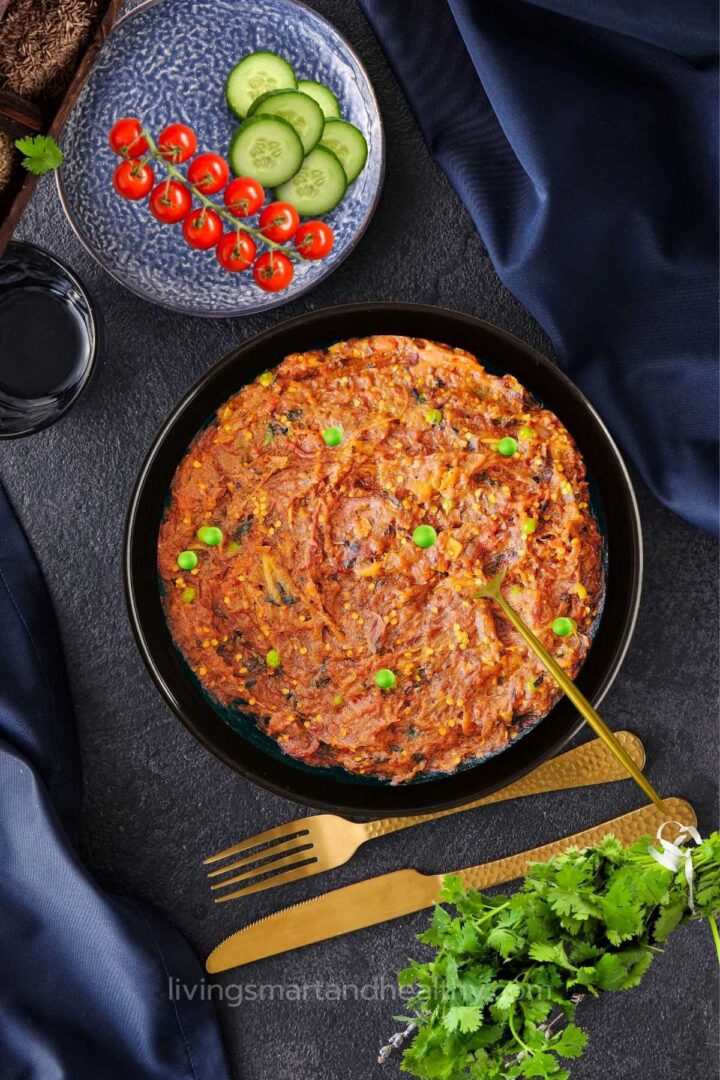 Health Benefits of Baingan Bharta
Baingan Bharta offers several health benefits. It is rich in fiber, antioxidants, and essential nutrients, supporting digestion, providing antioxidant protection, and contributing to overall well-being. Additionally, eggplant indian recipe is low in calories and can be a nutritious addition to a balanced diet.
Ingredients for Baingan Bharta Recipe
Here's a brief description of the ingredients required for Baingan Bharta:
The eggplant (baingan) is the prominent element of the recipe. The process of roasting brings out a delicious smoky flavor and results in a creamy texture when mashed.
Green peas (optional) - I have used about 1-2 tablespoons of green peas. I like the sweet flavor green peas give to this dish. Feel free to skip it.
Cooking oil: Used for roasting the eggplant and sautéing the other ingredients, cooking oil adds richness and helps in the cooking process.
Onions: Cooking finely chopped onions until translucent adds a sweet and savory flavor to any dish.
Tomato: Freshly chopped tomatoes add tanginess and juiciness to the dish.
Garlic cloves: Minced garlic brings a distinct and pungent flavor to eggplant indian recipe, enhancing its overall taste.
Ginger: Grated or finely chopped ginger adds a warm and aromatic element to the dish, balancing the flavors.
Green chilies: Gives a spicy kick to the dish. Adjust the quantity according to your taste.
Cumin Seeds: Roast cumin seeds in oil at the start for better flavor.
Spice: Basic Indian spices like coriander powder, chili powder, ground turmeric, amchur powder, and garam masala.
For a fresh burst of flavor, add some chopped coriander leaves (also known as cilantro) on top of your dish.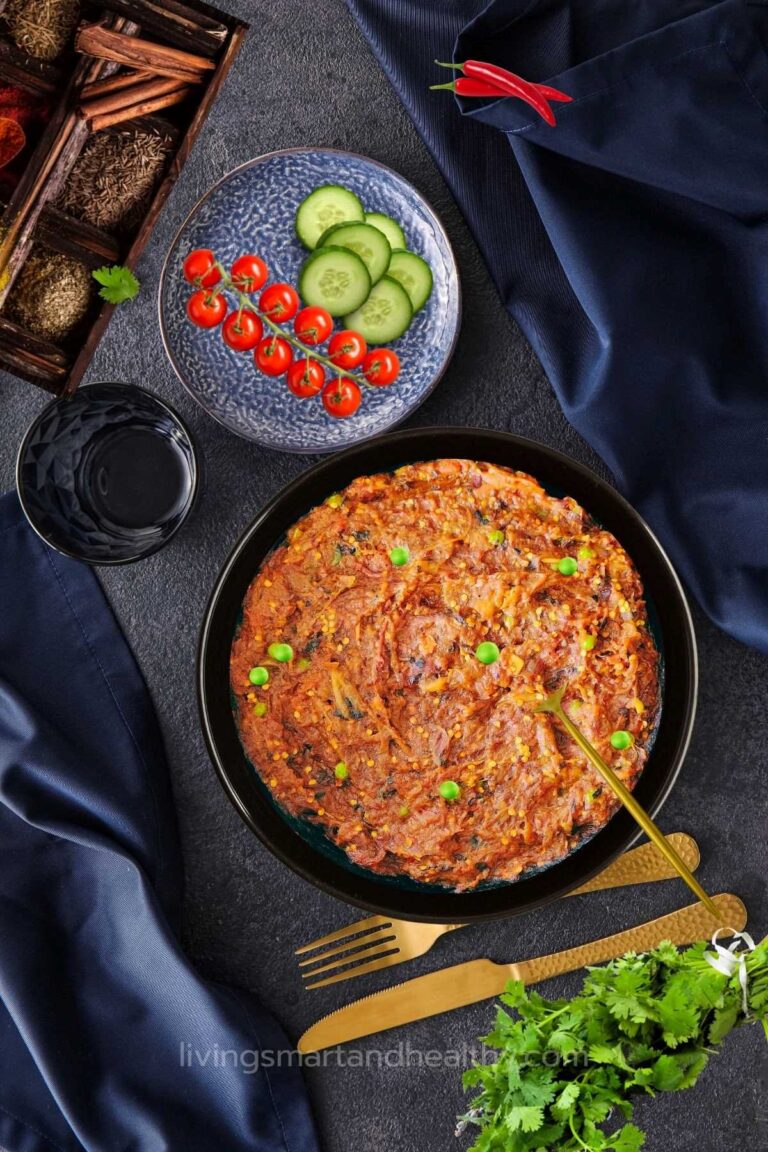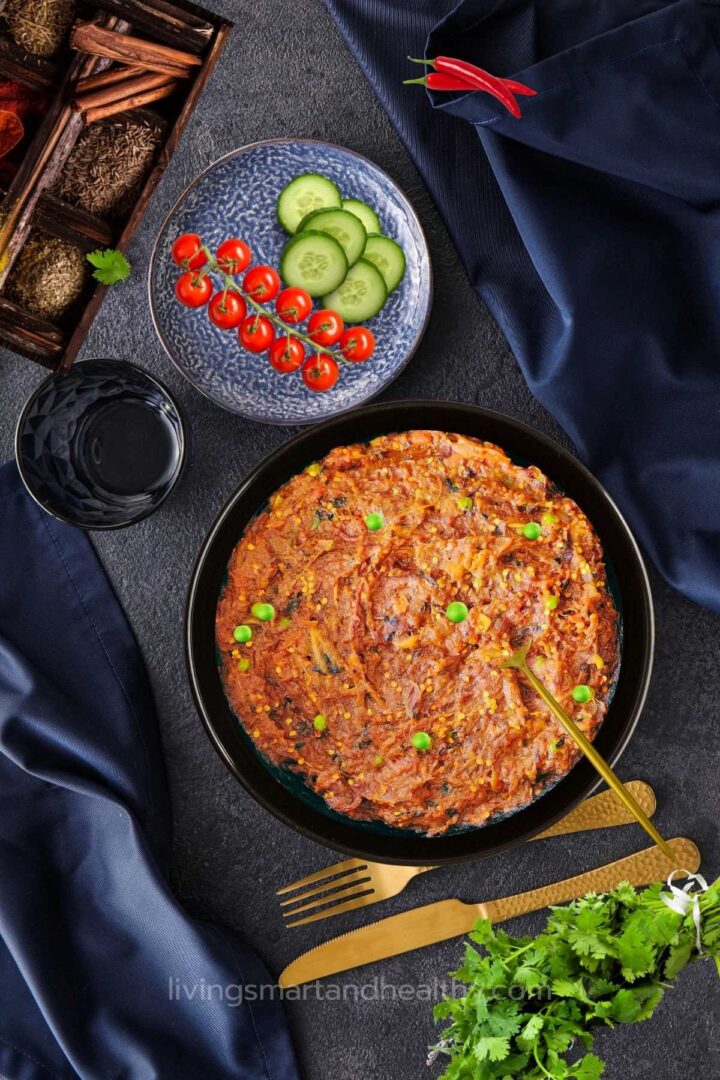 Selection and Roasting of Eggplant
When selecting an eggplant for Baingan Bharta, look for one that is firm, smooth, and shiny with no soft spots or blemishes. The eggplant should feel heavy for its size.
To roast the eggplant, there are two common methods. One is to place the whole eggplant directly on a gas stovetop burner or an open flame. Char and tenderize eggplant by turning it with tongs.
Alternatively, if you don't have a gas stovetop, you can roast the eggplant in the oven. Preheat the oven to 400°F (200°C). Pierce eggplant with a fork, roast for 45-60 min until charred skin and tender flesh.
After roasting, allow the eggplant to cool slightly. Then, using your hands or a spoon, peel off the charred skin and discard it. Scoop out the soft flesh and transfer it to a bowl. Mash the roasted eggplant with a fork or blend it in a food processor until it reaches a creamy consistency. The roasted and mashed eggplant is ready for use in the creation of eggplant indian recipe.
Cooking and Mashing the Eggplant
Roast eggplant until charred and tender, then let cool. Then, peel off the charred skin using your hands or a spoon, revealing the soft and smoky flesh beneath.
Transfer the roasted eggplant flesh to a bowl and begin mashing it with a fork or a potato masher. Alternatively, you can use a food processor for a smoother consistency. Mash until the eggplant reaches a creamy texture, ensuring that no large chunks are remaining.
The mashed eggplant serves as the base for Baingan Bharta recipe, providing a luscious and velvety texture to the dish. Its smoky flavor, combined with the other ingredients and spices, creates a delectable and aromatic blend. Eggplant mash ready for Baingan Bharta recipes. Cook with other ingredients for enhanced flavor.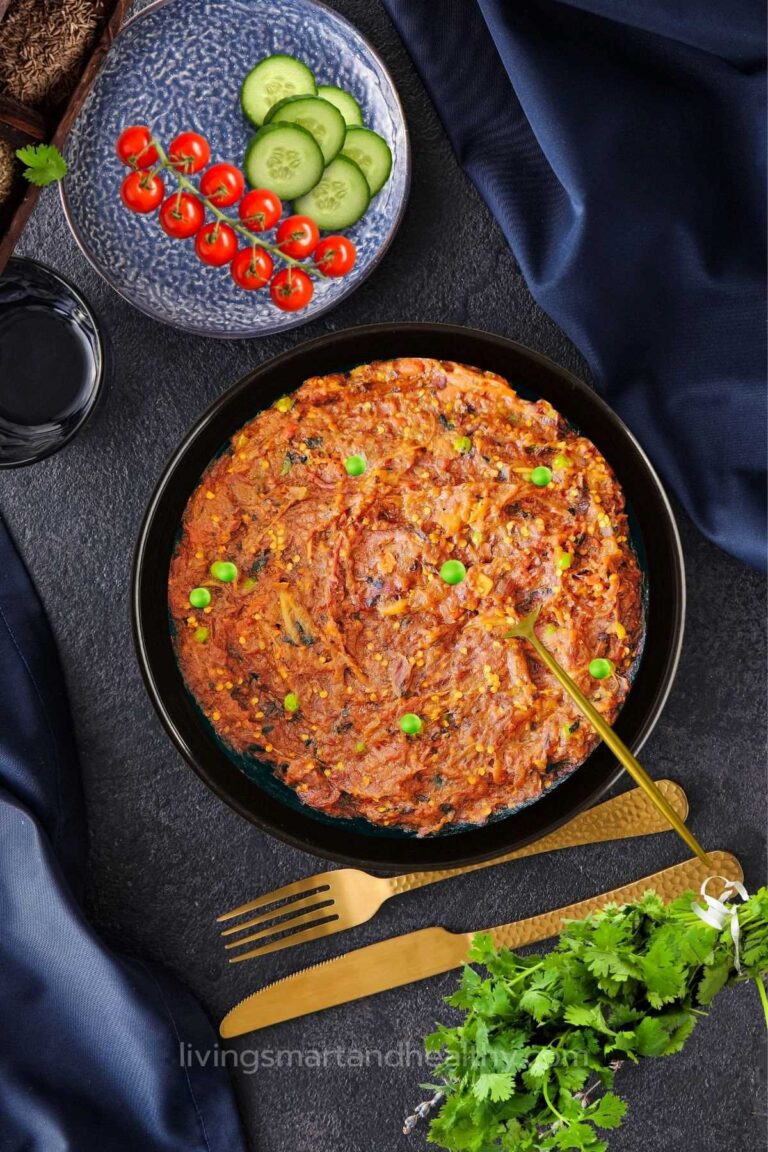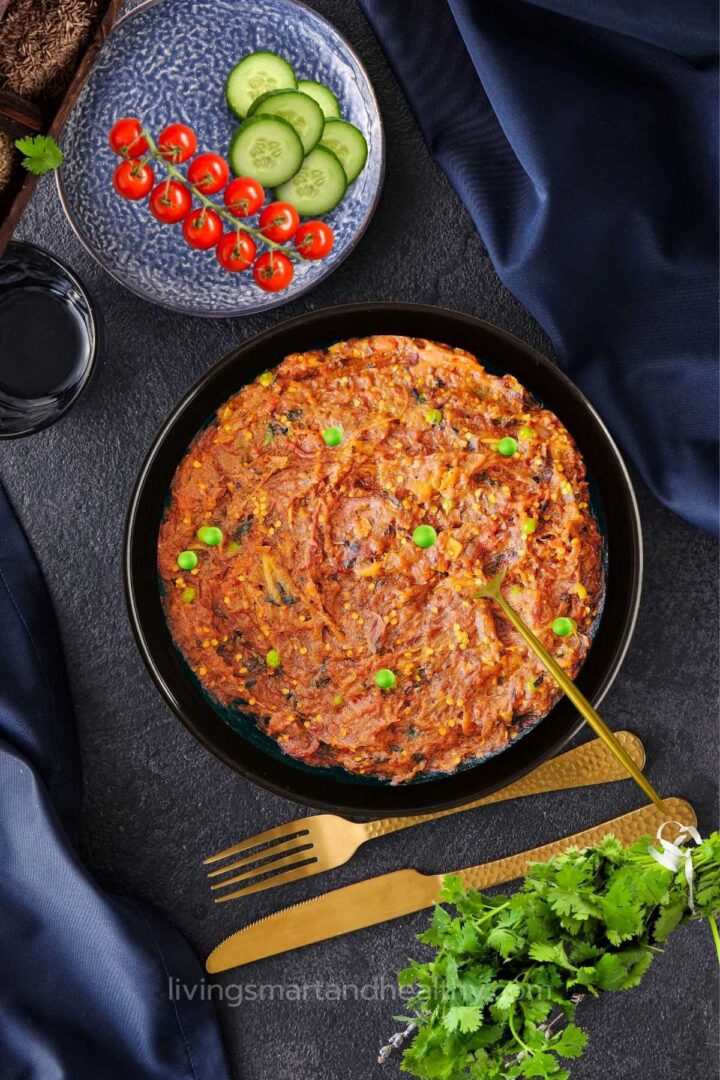 Why You'll Love this Eggplant Indian Recipe
✓ is easy to make
✓is the best Punjabi baingan bharta recipe
✓ is vegan and gluten-free
✓ enjoy it with roti or plain paratha
Tips for Irristible Eggplant Indian Recipe
Roasting Eggplant: When roasting the eggplant, make sure to pierce it with a fork or knife before cooking. This allows steam to escape during the roasting process and prevents the eggplant from bursting.
Make sure to char the eggplant skin thoroughly before removing it. The charred skin adds a smoky flavor to the dish. If the skin isn't properly charred, it could lead to a less intense flavor.
Sauté onions until translucent: cook until the onions become translucent and the raw aroma of the spices subsides.
Balance Spices: Adjust the quantity of spices, such as turmeric powder, red chili powder, coriander powder, and garam masala, according to your taste preferences. Start with smaller amounts and gradually add more if desired.
Cook the Tomato: After adding chopped tomatoes, cook them until they soften and release their juices. This will help create a flavorful base for the dish.
Mash well: While mashing the roasted eggplant, ensure that the texture is smooth and free of any large chunks. This will ensure a creamy consistency throughout the dish.
After combining all the ingredients, it's time to simmer the mixture over low heat for a while. This allows the flavors to blend together and develop a rich and aromatic taste.
Adjusting Consistency: If the mixture seems too dry, you can add a splash of water or vegetable broth to achieve the desired consistency. However, keep in mind that Baingan Bharta recipe is typically a semi-dry dish, so avoid adding too much liquid.
To enhance the flavor, it is advisable to allow Baingan Bharta recipes to rest for a brief period before serving. This resting period allows the flavors to blend in well.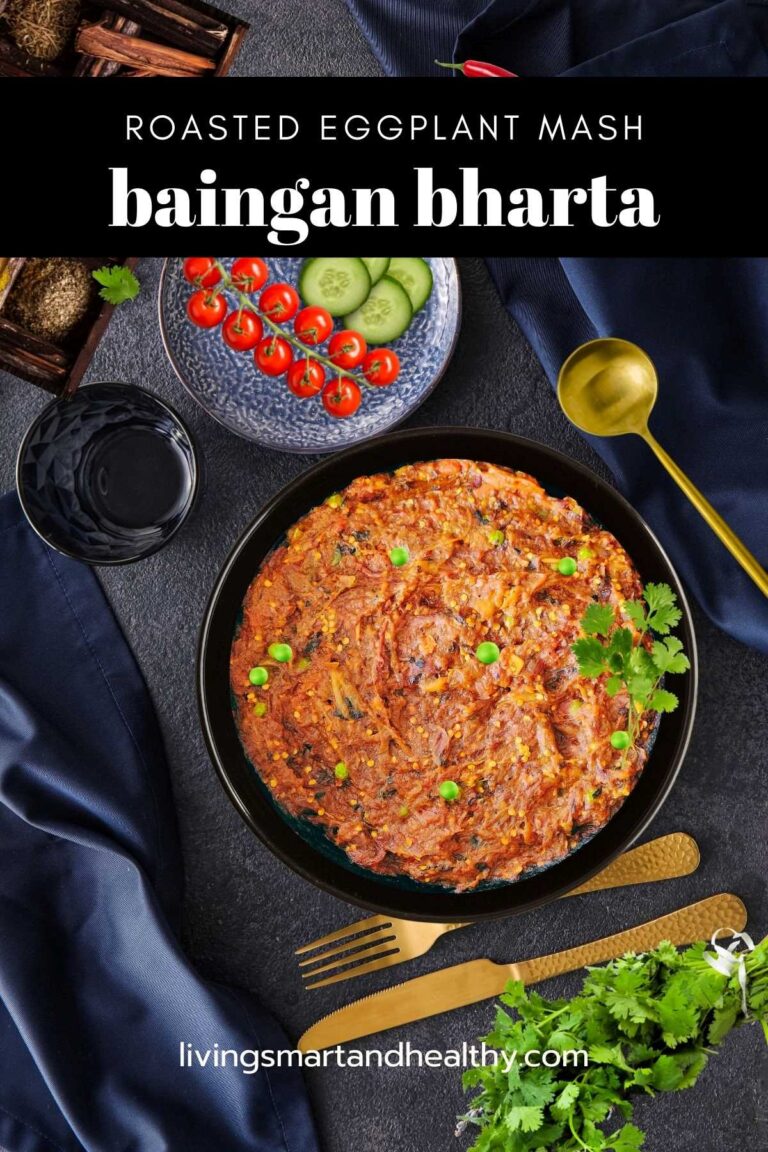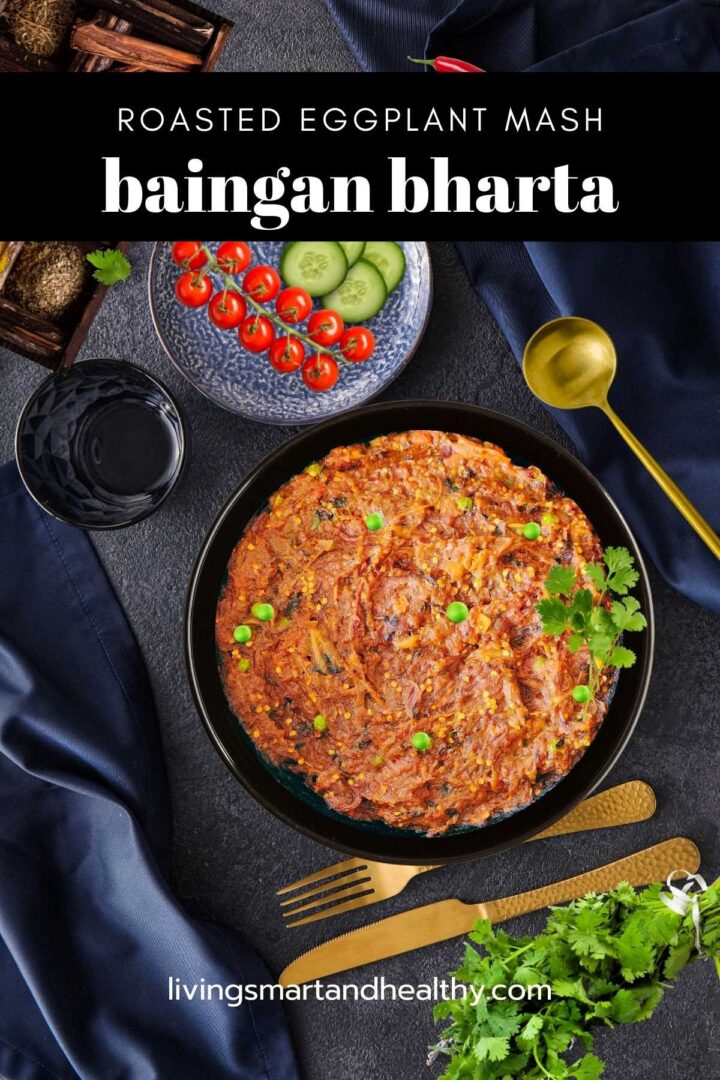 Serving & Accompaniments
Baingan Bharta is an incredibly versatile dish and there are numerous ways to enjoy it. Here are some serving suggestions and accompaniments to complement this flavorful dish:
Bread: Baingan Bharta pairs exceptionally well with Indian bread such as roti, paratha, or naan. The soft and doughy texture of these bread makes them perfect for scooping up the creamy bharta.
Rice: Serve eggplant recipe Indian with steamed Basmati rice for a satisfying and wholesome meal.
Raita: Accompany Baingan Bharta recipe with a refreshing side of raita. Its cool and tangy flavors complement the rich and spiced bharta.
Pickles: Add some tang and heat to your plate by serving Baingan Bharta recipes with a side of pickles like mango pickle, lime pickle, or mixed vegetable pickle.
Papad: Crispy papads (thin, disc-shaped lentils or rice crackers) make for a delightful accompaniment to Baingan Bharta.
Salad: A fresh and light salad can provide a refreshing contrast to the rich flavors of Baingan Bharta. Prepare a simple salad with cucumbers, tomatoes, onions, and lemon juice, or customize it with your favorite vegetables and dressings.
Chutney: Serve eggplant recipe Indian with a side of chutney for an extra burst of flavor. Mint chutney, or coriander chutney are popular choices that add a tangy and herbal element to the dish.
Garnishes: Sprinkle some freshly chopped coriander leaves (cilantro) or a squeeze of lemon juice on top of the prepared eggplant recipe Indian to enhance its aroma and visual appeal.
Storing & Freezing
Bharta stays fresh for 3-4 days in the refrigerator. Store it in an air-tight container for best results.
You can freeze eggplant recipe Indian for up to a month. Store it in a freezer-safe container.
Thaw the bharta overnight in the refrigerator. You can defrost the bharta in the microwave. Re-heat and serve the bharta. Enjoy!!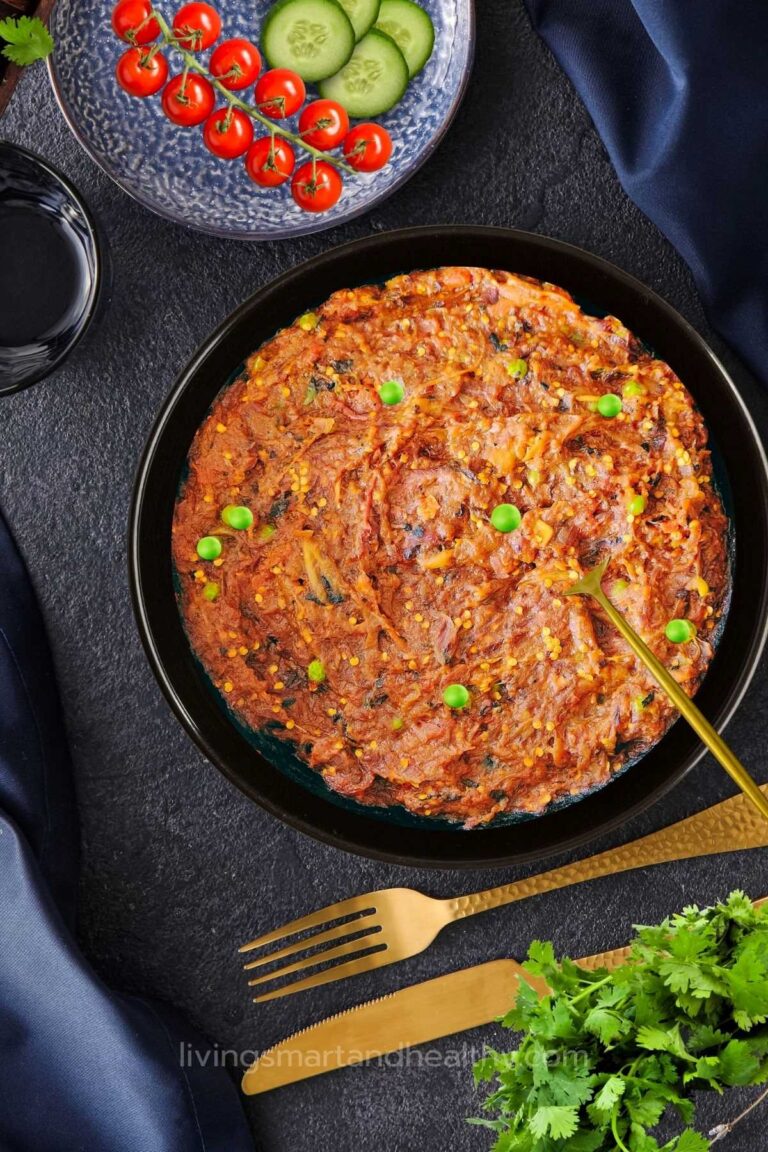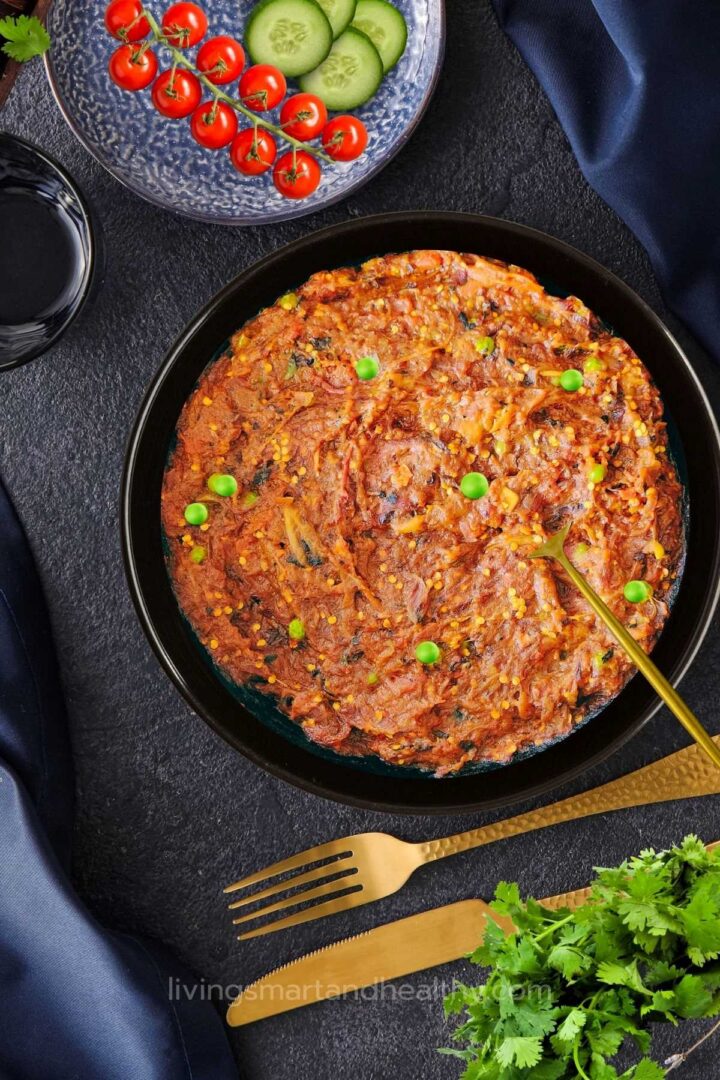 Frequently Asked Questions
What is the English name for Baingan Bharta?
In English, Baingan Bharta is referred to as "Roasted Eggplant Mash" or "Smoky Eggplant Dip".
Is Baingan Bharta keto friendly?
If you're following a keto diet, you can make Baingan Bharta a part of your meal plan by using the right ingredients and adjusting the amount of spices and oil. This dish is a great option since it's naturally low in carbs. Just make sure to stick to the approved ingredients and enjoy it in moderation.
In which state did Baingan Bharta originated?
It is believed that Baingan Bharta recipe originated in the Indian state of Punjab. It is a popular dish in Punjabi cuisine and has since become a beloved part of Indian culinary traditions.
Is baingan bharta healthy?
Eggplant recipe Indian is a healthy dish as it contains nutritious ingredients like eggplant, onions, tomatoes, and spices. It is rich in fiber, antioxidants, and various vitamins and minerals, making it a beneficial addition to a balanced diet.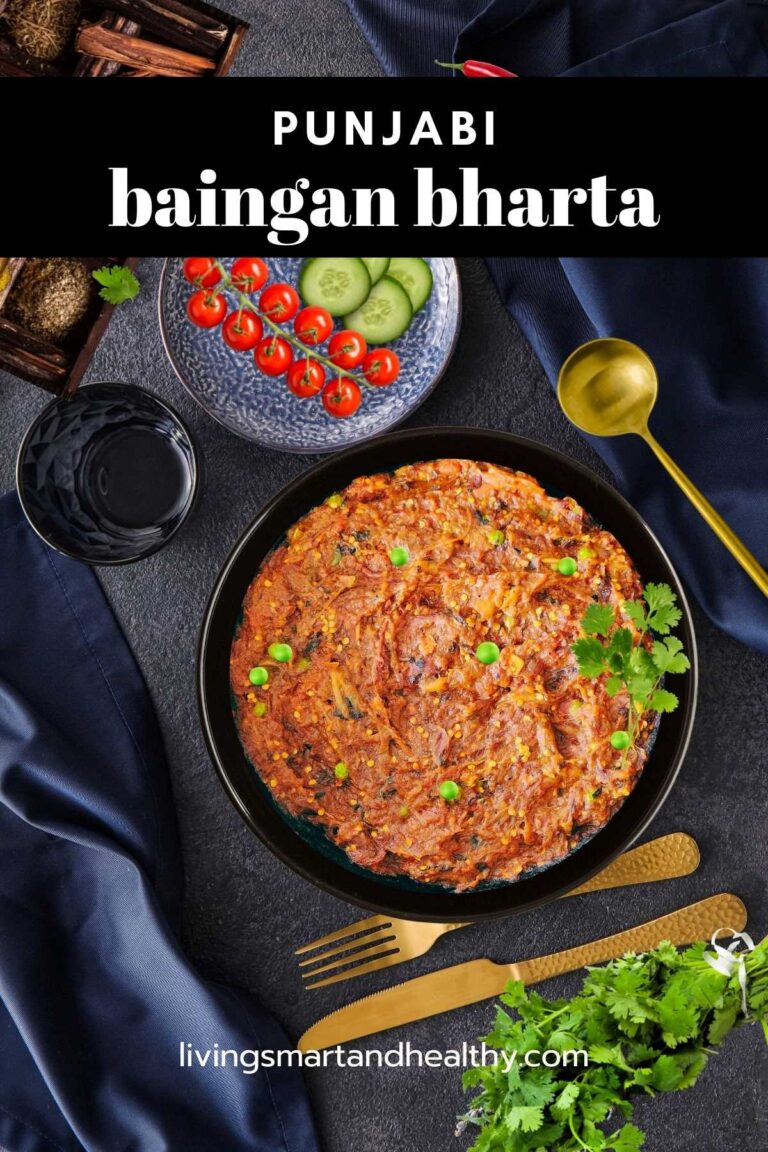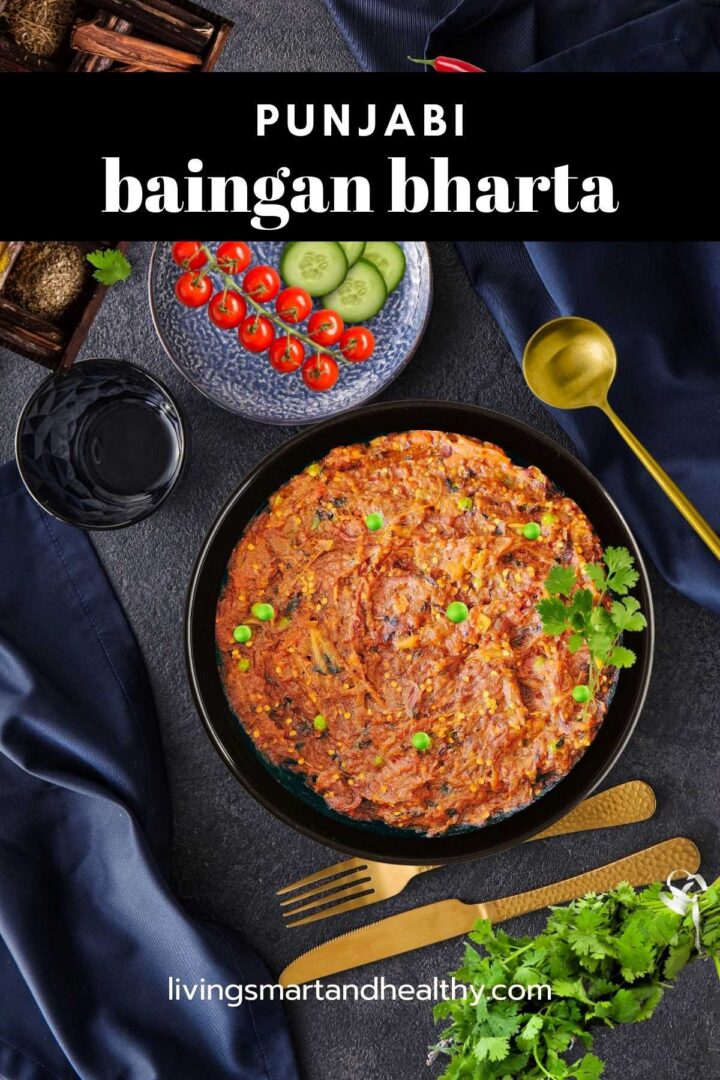 TRIED THIS RECIPE?
Hope you enjoy this Baingan Bharta!! If you give this recipe a try, please rate the recipe by clicking the stars on the recipe card. Leave a comment and share your experience. Thank you!
Follow me on Facebook, Pinterest, and Instagram for all the latest on my blog!! Subscribe to my Youtube Channel for easy and delicious video recipes. Happy Cooking!!
More Indian Eggplant Recipes
Recipes from Punjabi Cuisine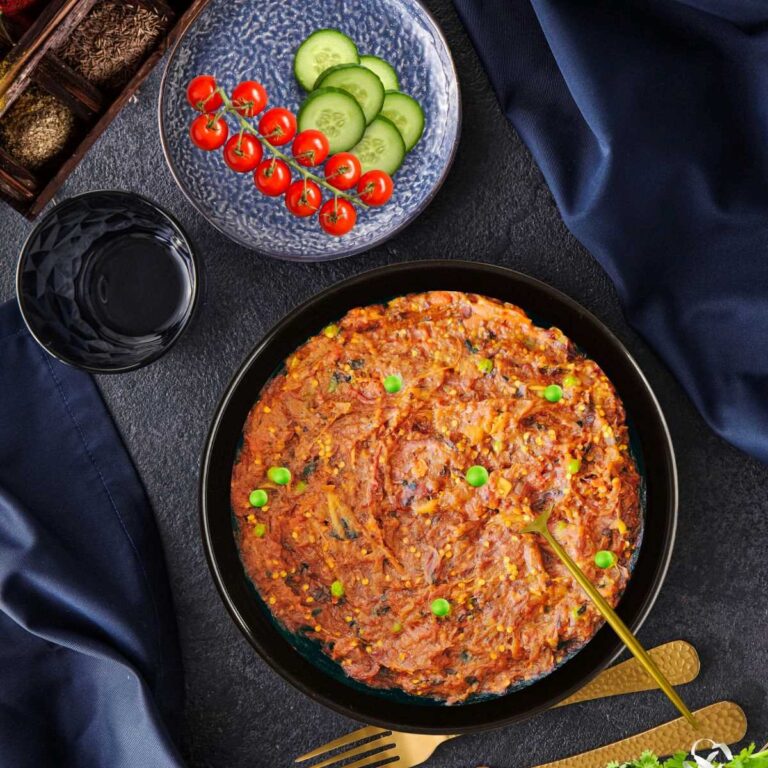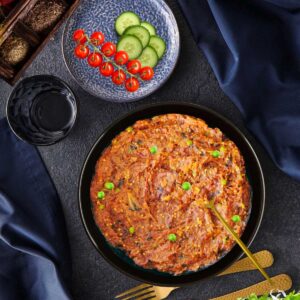 Baingan Bharta: Irresistible Indian Eggplant Recipes
Baingan Bharta Recipe! Indulge in the smoky goodness of roasted eggplant Indian recipe combined with aromatic spices, in this flavorful vegan dish.
Ingredients
INGREDIENTS FOR BAINGAN BHARTA
FOR ROASTING THE EGGPLANT
1

American eggplant

3-4

cloves

garlic
FOR THE BAINGAN BHARTA
2

medium

onion, sliced

5-6

cloves

garlic, minced

3

medium

tomatoes, chopped

2-3

green chili, chopped; adjust to taste

1-

inch

ginger, chopped

1-2

tablespoon

green peas (optional)

2

tablespoon

canola oil or other neutral oil
FOR GARNISH
a handful of fresh cilantro
Instructions
DIRECTIONS FOR BAINGAN BHARTA
Wash and pat dry the eggplant. Brush the eggplant with some oil. With a knife make a few slits into the eggplant, just big enough to fit a clove of garlic. Take a few garlic cloves and tuck them inside the eggplant.

Place a roti jali on a stove. Place the eggplant over a jali and roast on medium flame. Roast the eggplant on one side. Turn it over with the tongs and roast it on the other side. Keep turning the eggplant a few times for even roasting.Note: The time to roast the eggplant depends on the size of the eggplant. It took me about 8-10 minutes to roast a medium American eggplant.

Insert a knife in the center of the eggplant, if it goes through without any resistance, the eggplant is roasted to perfection. Remove the eggplant to a plate, cover it and let it rest for 5-10 minutes.

While the eggplant is resting, prepare the masala. In a Kadai or a pan, heat some oil, and add cumin seeds and a pinch of asafetida (optional). Allow the cumin seeds to crackle.

Next add onions, a pinch of salt, and sauté for 5-7 minutes or until the onions turn light brown. Stir it occasionally. Add the garlic and ginger, and sauté for a minute.

Add tomatoes, and green chili, and cook the tomatoes until soft. Add the dry spices, except garam masala. Mix well and continue to sauté for 2-3 minutes or until the masala starts to leave some oil.

Meanwhile, cut the eggplant into half and scoop out all the flesh.

Add the mashed roasted eggplant, roasted garlic, and green petite peas(optional). Mix well and cook for 3-5 minutes. Cook until everything is well combined.

Finally, add some garam masala, mix well and remove the pan from the heat.
Notes
Please refer to the post for the following:
Tips For The Best Baingan Bharta
FAQ's
Nutrition
Nutrition Facts
Baingan Bharta: Irresistible Indian Eggplant Recipes
Amount per Serving
% Daily Value*
* Percent Daily Values are based on a 2000 calorie diet.
Disclaimer
Nutrition values are my best estimates. If you rely on them for your diet, use your preferred nutrition calculator.
KEYWORD
baingan bharta recipe, baingan bharta recipes, eggplant indian recipe, eggplant recipe indian, indian eggplant recipe, indian eggplant recipes, indian recipe for eggplant, indian recipe with eggplant, recipe for indian eggplant, recipes with indian eggplant