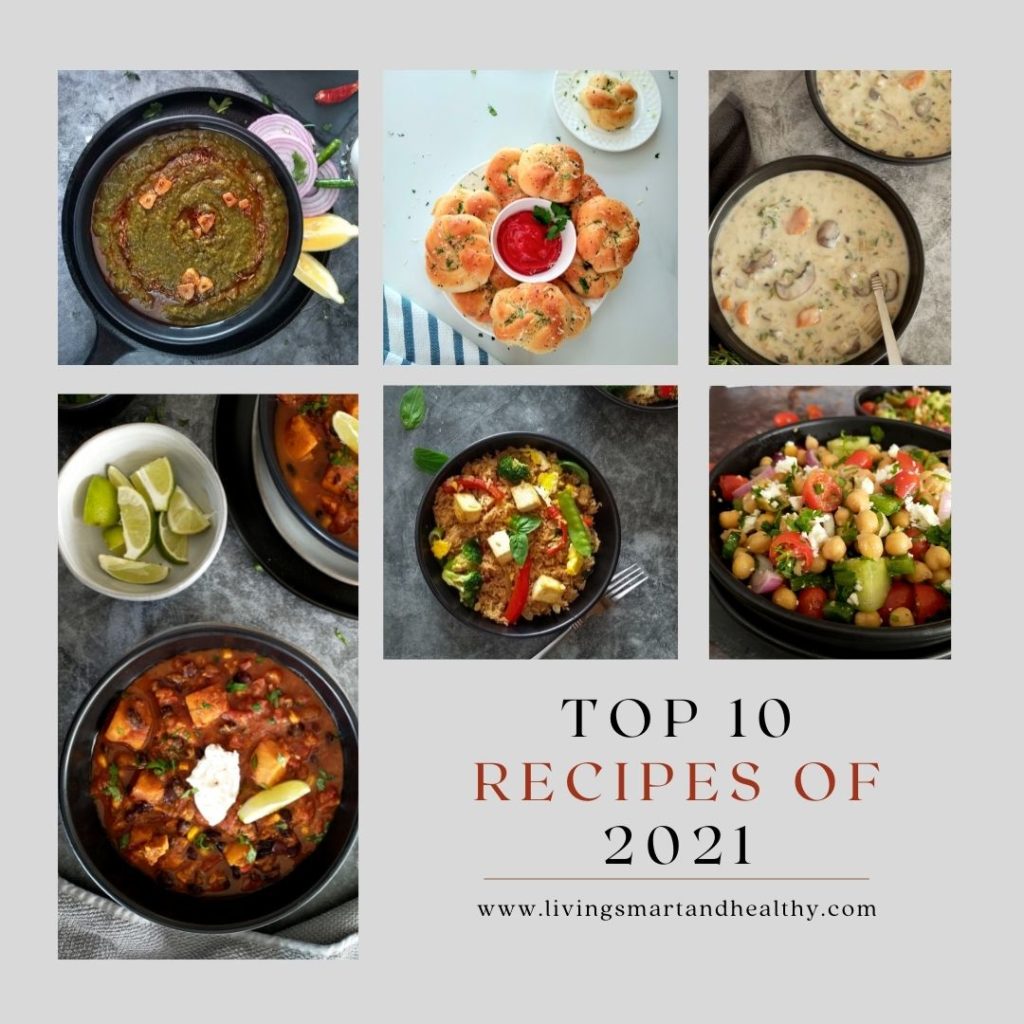 Happy New Year!!
2021 passed by so quickly, what an eventful year personally and as a blogger. Learned, grew, enjoyed every ride 2021 had to offer. I just want to take a moment and thank you all, for your tremendous support and encouragement. It has been such a wonderful journey thus far. Thank you for all the love and compassion you have showered upon me. Thank you for being together on my journey!
So thrilled to welcome new year, embracing new challenges, and success this year has in store for me. My goal for 2022 is to continue to bring the best content to my readers. I have immensely enjoyed cooking, experimenting in my little kitchen. I hope you all have enjoyed cooking with me, trying new recipes and making memories!
Today, I am sharing top 10 favorite Living Smart and Healthy recipes of 2021. These recipes have been tried by you all (readers), most shared and enjoyed. I am so grateful to you all (my readers) for liking, sharing, for your valuable comments. It keeps me motivated to do my best! Thank you all for your continued support!!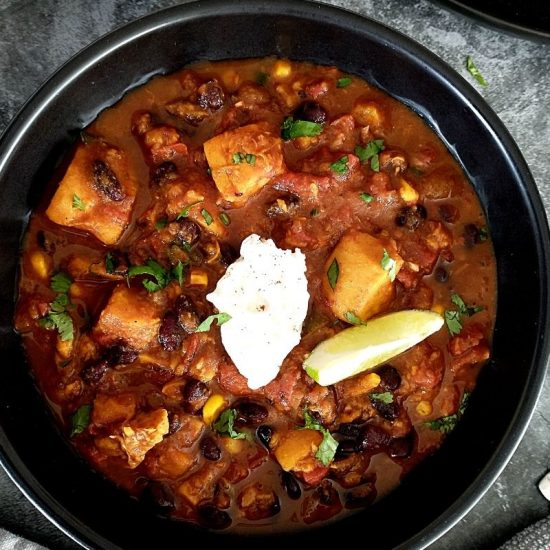 Hearty, delicious sweet potato and black bean chili that comes together in under 30 minutes! Loaded with hearty black beans, fire roasted veggies, sweet potatoes and mildly spicy poblano pepper. One-pot recipe for a warm and hearty bowl on a cold, blistery night!
Wild Rice Mushroom Soup is a hearty, creamy and a delicious soup. Made with wild rice, fresh vegetables and greens. This easy, comforting soup is packed with proteins and veggies! This recipe can be made vegan and gluten-free.
High in protein and fiber Quinoa Idli. Pillow-y soft savory cakes made with a combination of quinoa and lentils, and no rice added. Serve these quinoa idli with some sambar and coconut chutney for a complete power packed, healthy meal. This recipe is gluten-free and vegan.
Quick and easy Mediterranean Chickpea Salad, made with bell peppers, crisp, cool cucumber, and creamy feta. Makes a fast, healthy lunches, side or great for meal-prep.
It's highly nutritious, rich in protein and fiber, and is gluten-free! Skip the feta cheese and use some avocado to make it vegan.
Mom's Chicken Curry is a delicious, aromatic dish devoured by my whole family! Tender chicken pieces are marinated in a flavorful yogurt sauce and simmered in onion-tomato sauce. This chicken curry is aromatic, with subtle flavors, in an easy to make recipe.
This delicious one-pot chicken curry is made with basic ingredients and comes together in no time. Perfect for weeknights dinner!
Whole wheat bread or brown bread, made with pantry ingredients. This homemade bread recipe is simple, easy, and tastes amazing. If this is your first time baking a bread, bake this soft and fluffy whole wheat bread in just 5 easy steps.
Kale Sarson Ka Saag [Kale Mustard Greens], highly nutritious, creamy dish made with green leafy vegetables, tempered with onion, garlic and some aromatic Indian spices. This recipe is easy to make and with just handful of ingredients comes together in no time in a pressure cooker or an Instant Pot.
In just 5 – easy steps, make these soft, delicious, homemade Garlic Knots recipe. These knots are so flaky, buttery, fluffy and they just melt in your mouth. Try this easy recipe to make pillow-soft garlic knots, so much better than the store bought!!
Serve it with some marinara sauce or ketchup or simply pair it with some homemade soup for a hearty meal.
Quick and easy, restaurant style Instant Pot Thai Fried rice, made from scratch. One-pot dish, perfect for weeknight cravings. It's great on it's own or serve it as a side dish with your favorite Thai curry.
Homemade New York Style bagels are just like the ones you get in New York city. Perfect crisp, golden brown from outside, chewy and fluffy from inside. These homemade bagels are easy to make. In just 5- easy steps, make these best New York Style bagel at home and enjoy with your loved ones!!
I hope you enjoyed these top 10 recipes of 2021, do give them a try (if you haven't yet). I would love to hear your feedback!
Here are Top 5 holiday bakes of 2021!
(Click on the link below for the recipes)
Homemade Crescent Rolls [Dinner Rolls]
As the new year begins, I will be working on planning new content for this year. Please feel free to comment below, or message me on Facebook or Instagram and let me know what recipes you would like me to share in 2022!
Here's wishing you all plenty of awesome experiences and magical moments!!
With love and gratitude,
Jyoti Behrani
Founder at Living Smart And Healthy