Indulge in the delightful world of Brioche Dinner Rolls, where buttery richness meets soft, pillowy perfection. These versatile and mouthwatering rolls are the perfect accompaniment to any meal, whether you savor them sweet or savory.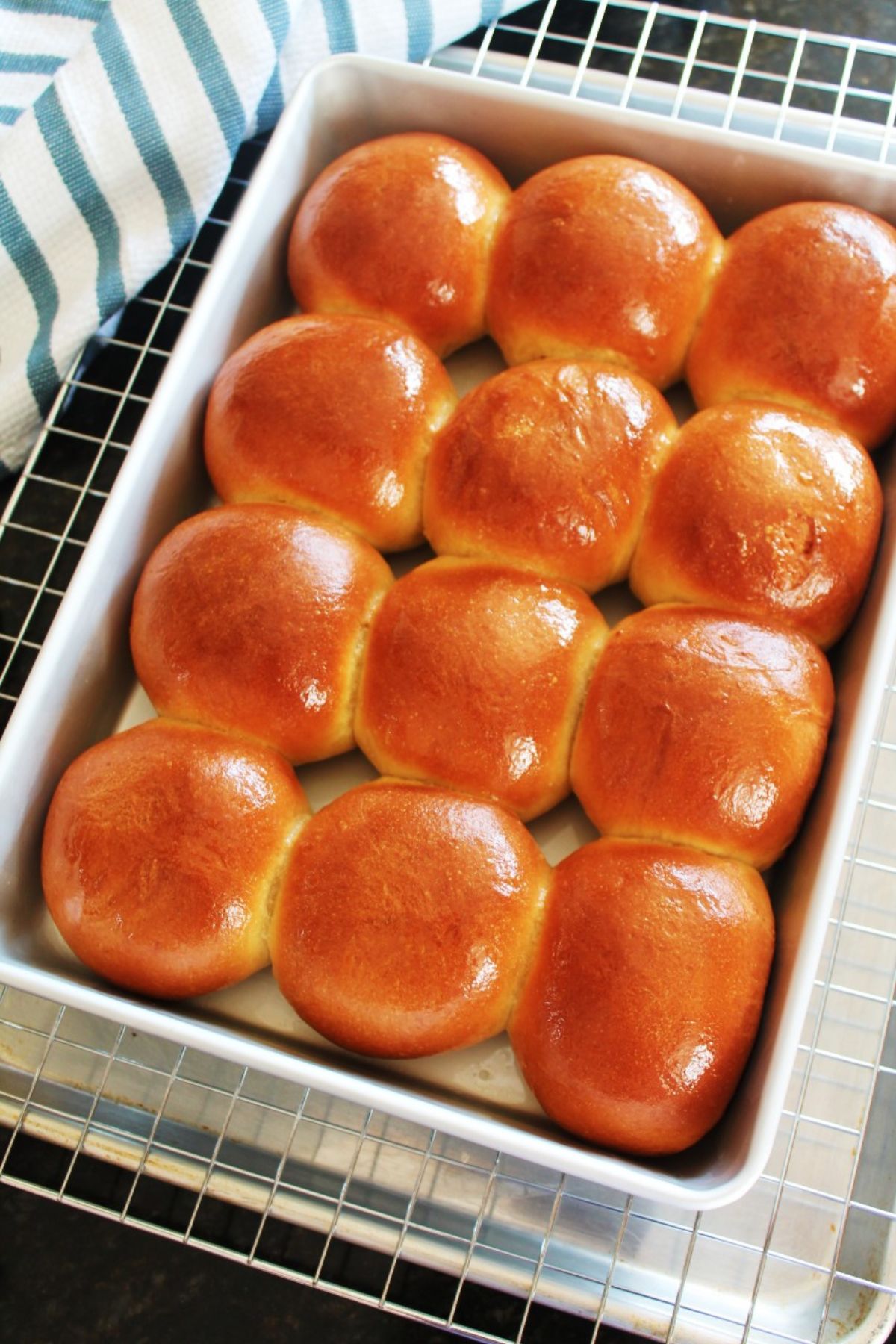 Brioche is a tender, slightly sweet bread enriched with butter and eggs, resulting in a pillowy soft texture and a golden, shiny crust. These delectable creations combine the richness of a traditional brioche with the convenience and versatility of dinner rolls, making them the perfect addition to any meal or occasion.
Whether you're hosting a dinner party, enjoying a family gathering, or simply want to elevate your everyday meals, Brioche Dinner Rolls will surely impress your guests and loved ones. Their versatility allows them to be paired with savory accompaniments like herb-infused butter, gourmet cheeses, or even used as sliders for mini sandwiches. On the sweeter side, they're perfect with jams, honey, or served alongside your favorite desserts.
In this blog post you will find different variations, baking tips, and creative serving ideas, ensuring that you can master the art of making these delicious Brioche Dinner Rolls in your own kitchen.
Jump to:
About Brioche Dinner Rolls
Brioche dinner rolls are sweet French rolls, rich, light, and fluffy. Due to its high egg and butter content, it has a dark, golden, flaky crust and texture similar to a highly enriched pastry.
Brioche dough is made with flour, eggs, butter, liquid (milk, cream, water, or even some brandy), leavening (yeast or sourdough), salt, and sugar. The common Brioche recipes use a flour-to-butter ratio of amount 2:1.
The normal way of proofing the Brioche dough is to let it rise at room temperature until it's double in volume. Then punch it down, shape it, and proof it again until almost doubled in volume. Finally, bake the rolls and serve them warm with some butter. I used Instant Pot for the first proofing. The recipe includes details on how to proof the dough using the traditional and Instant Pot method.
Ingredients
Here's a brief description of the ingredients used to make Brioche Dinner Rolls:
Flour: All-purpose flour is the foundation of the rolls, providing structure and texture.
Yeast: Active dry yeast is used as the leavening agent, helping the dough rise and become light and airy.
Eggs: Eggs enrich the dough, giving it a tender and moist crumb, as well as contributing to the characteristic golden color.
Butter: Unsalted butter is a key ingredient that adds a rich, buttery flavor and a soft, velvety texture to the rolls.
Sugar: A small amount of sugar enhances the sweetness of the rolls and aids in browning during baking.
Milk: Whole milk or a combination of milk and water provides liquid for hydration and contributes to the rolls' softness.
Salt: Salt is essential for balancing the flavors and enhancing the overall taste of the rolls.
Optional Flavorings: Vanilla extract or lemon zest can be added for subtle flavor variations.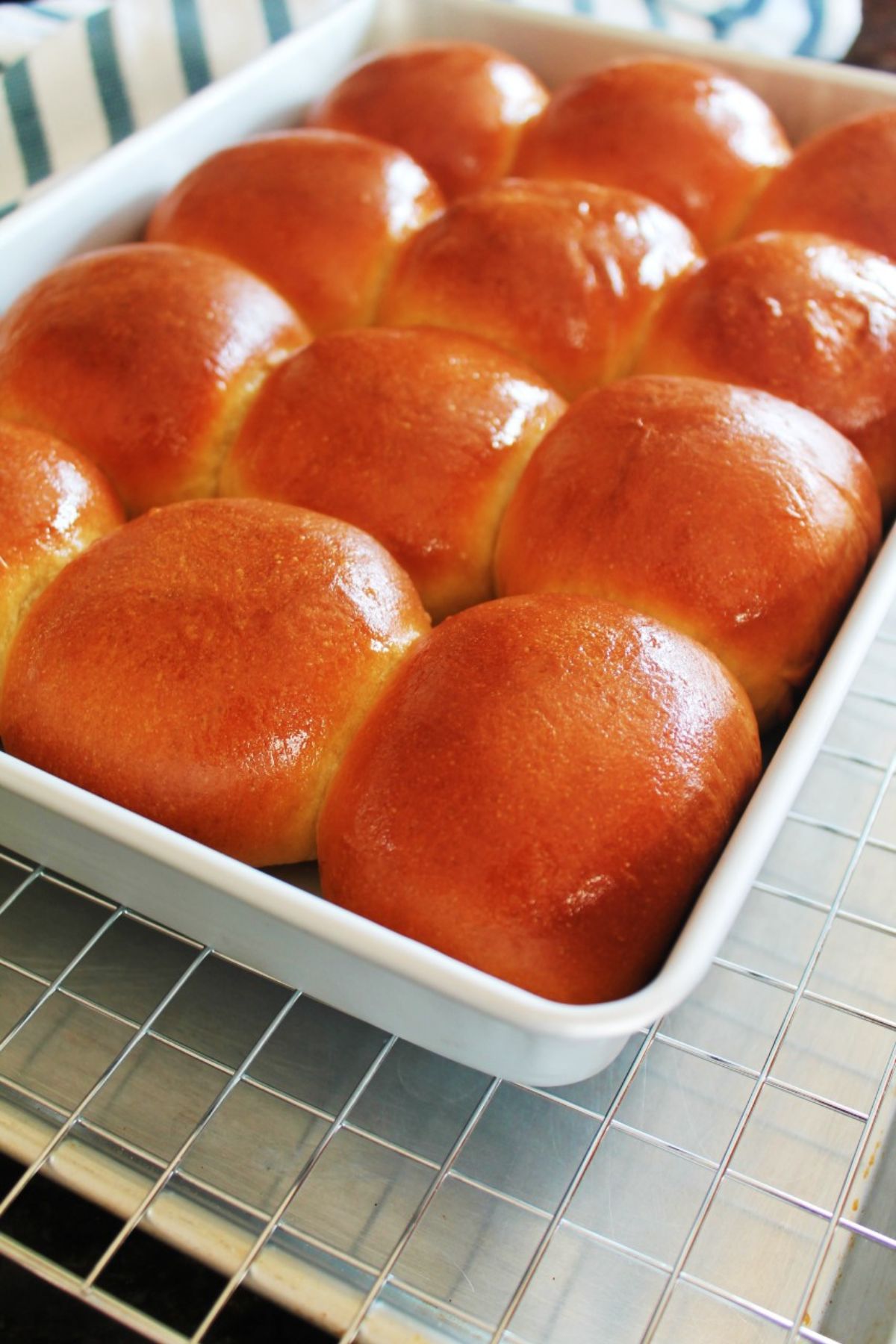 Instructions
With these simple instructions, you can create delicious Brioche Dinner Rolls that are perfect for any occasion or mealtime. Happy baking!
Activate the Yeast: In a small bowl, mix the warm water and sugar. Sprinkle the yeast over the water and let it sit for about 5-10 minutes until it becomes frothy. This indicates that the yeast is activated and ready to use.
Prepare the Dough: In a mixing bowl, combine flour, sugar, and salt. In a separate bowl, whisk together eggs, milk, yeast mixture, and optional flavorings. Slowly add the wet ingredients to the dry ingredients while mixing until a dough forms. You can also use a Stand Mixer with a dough hook attachment to knead the dough.
Knead the Dough: Flour a clean surface and transfer the dough onto it. Knead the dough for about 5-7 minutes until it becomes smooth, soft, and elastic.
First Rise: Place the dough in a greased bowl, cover it with plastic wrap or a kitchen towel, and let it rise in a warm, draft-free place until it doubles in size (about 1-2 hours). You can also use Instant Pot to proof the dough.
Chill the Dough (Optional): For easier handling, refrigerate the dough for about an hour after the first rise.
Shape the Rolls: Divide the dough into equal portions and shape them into desired rolls (balls, knots, etc.). Place the shaped rolls on a baking sheet lined with parchment paper or a silicone baking mat.
Second Rise: Cover the rolls with a kitchen towel and let them rise again until they puff up and increase in size (about 1-2 hours).
Preheat the Oven: Preheat your oven to the required temperature according to your recipe.
Bake: If desired, brush the risen rolls with an egg wash for a golden finish. Bake the rolls until they turn golden brown and have a hollow sound when tapped on the bottom.
Cool and Serve: Once baked, transfer the rolls to a wire rack to cool slightly. Serve the Brioche Dinner Rolls warm and enjoy their soft, buttery goodness!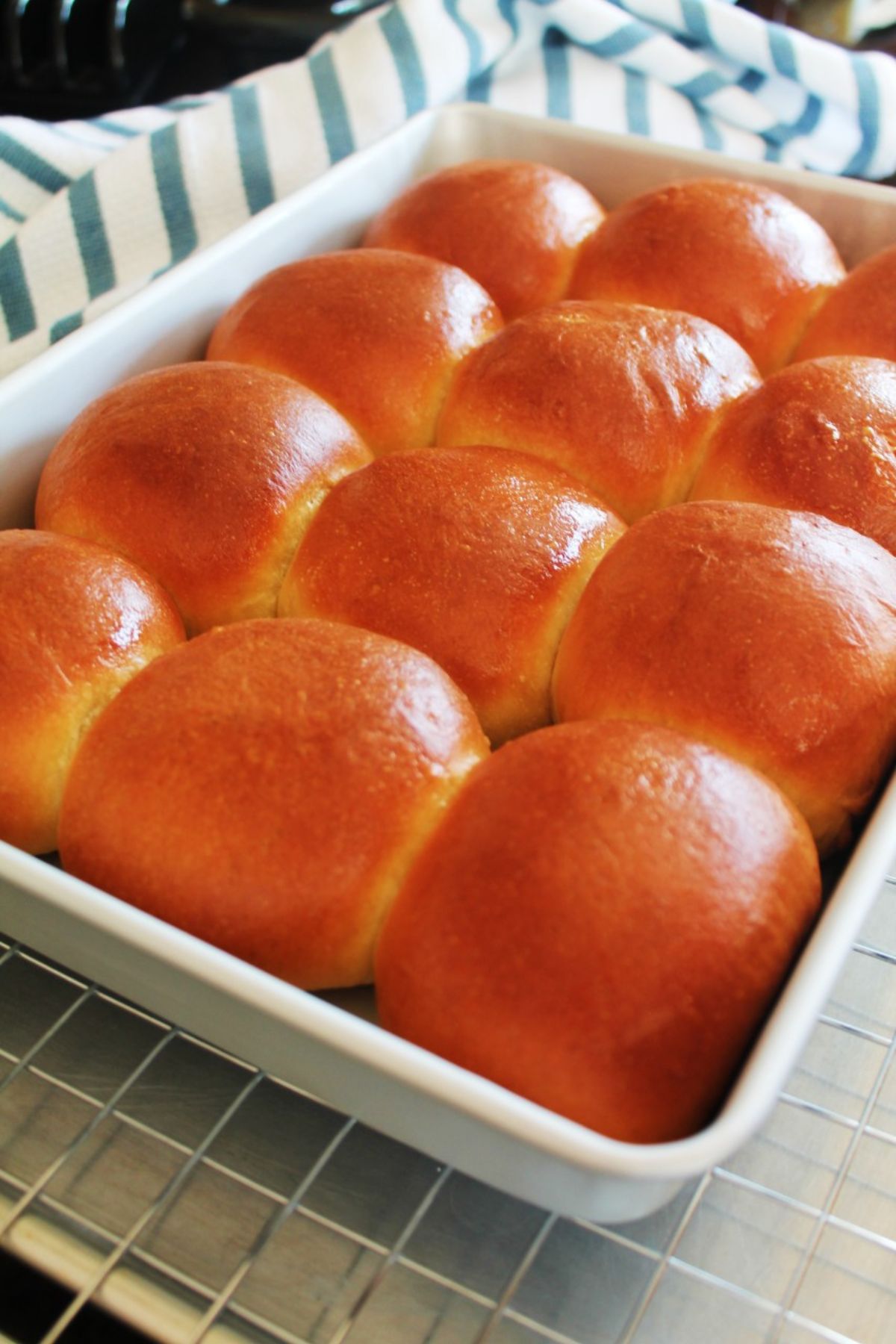 Substitutions Brioche Rolls Recipe
Here are some substitutions you can make for Brioche Dinner Rolls if you don't have certain ingredients on hand or want to try different variations.
Flour: All-purpose flour can be substituted with bread flour or vice versa. Keep in mind that bread flour has a higher protein content, which may result in slightly chewier rolls.
Yeast: If you don't have active dry yeast, you can use instant yeast in its place. Please follow the instructions on the package for proofing the yeast.
Butter: While the richness of butter is an essential component of brioche, you can substitute it with an equal amount of vegetable oil for a lighter version.
Milk: If you're lactose intolerant or prefer a dairy-free option, you can replace milk with a non-dairy milk like almond milk, soy milk, or oat milk.
Sugar: White granulated sugar can be substituted with brown sugar or honey for a different flavor profile.
Optional Extract: Vanilla extract, almond extract, or any other extract for the flavoring.
Optional Flavorings: Lemon zest, orange zest, or other citrus fruit zest for a different citrusy aroma.
Variations
Brioche Dinner Rolls are incredibly versatile, and there are numerous variations you can try to add exciting flavors and textures. Here are some delightful variations to consider:
Savory Herb Rolls: Add chopped fresh herbs like rosemary, thyme, or chives to the dough for savory, aromatic rolls that pair perfectly with roasted meats and savory dishes.
Cheese-filled Rolls: Incorporate shredded cheese, such as cheddar, Gruyère, or Parmesan, into the dough for cheesy goodness inside every bite.
Cinnamon Sugar Rolls: Roll the dough into balls, dip them in melted butter, and then coat them generously with a mixture of cinnamon and sugar. After baking, you'll have sweet, cinnamon-kissed rolls perfect for breakfast or brunch.
Chocolate Chip Brioche Rolls: Add chocolate chips to the dough for a decadent treat that's perfect for dessert or as a special breakfast option.
Stuffed Rolls: Create stuffed rolls by placing a small amount of your favorite filling, such as Nutella, jam, or cream cheese, in the center of each dough ball before shaping and baking.
Garlic Butter Rolls: Brush the rolls with garlic-infused melted butter before or after baking for a flavorful twist.
Orange or Lemon Zest Rolls: Add freshly grated orange or lemon zest to the dough for a citrusy burst of flavor.
Cardamom Brioche Rolls: Add ground cardamom to the dough for a unique and aromatic variation.
Dried Fruit and Nut Rolls: Mix in chopped dried fruits like raisins, apricots, or cranberries, along with some chopped nuts like walnuts or pecans, for a delightful texture and flavor combination.
Everything Bagel Rolls: Top the rolls with "everything bagel" seasoning, which typically includes sesame seeds, poppy seeds, dried minced garlic, dried minced onion, and coarse salt, for a savory, crunchy twist.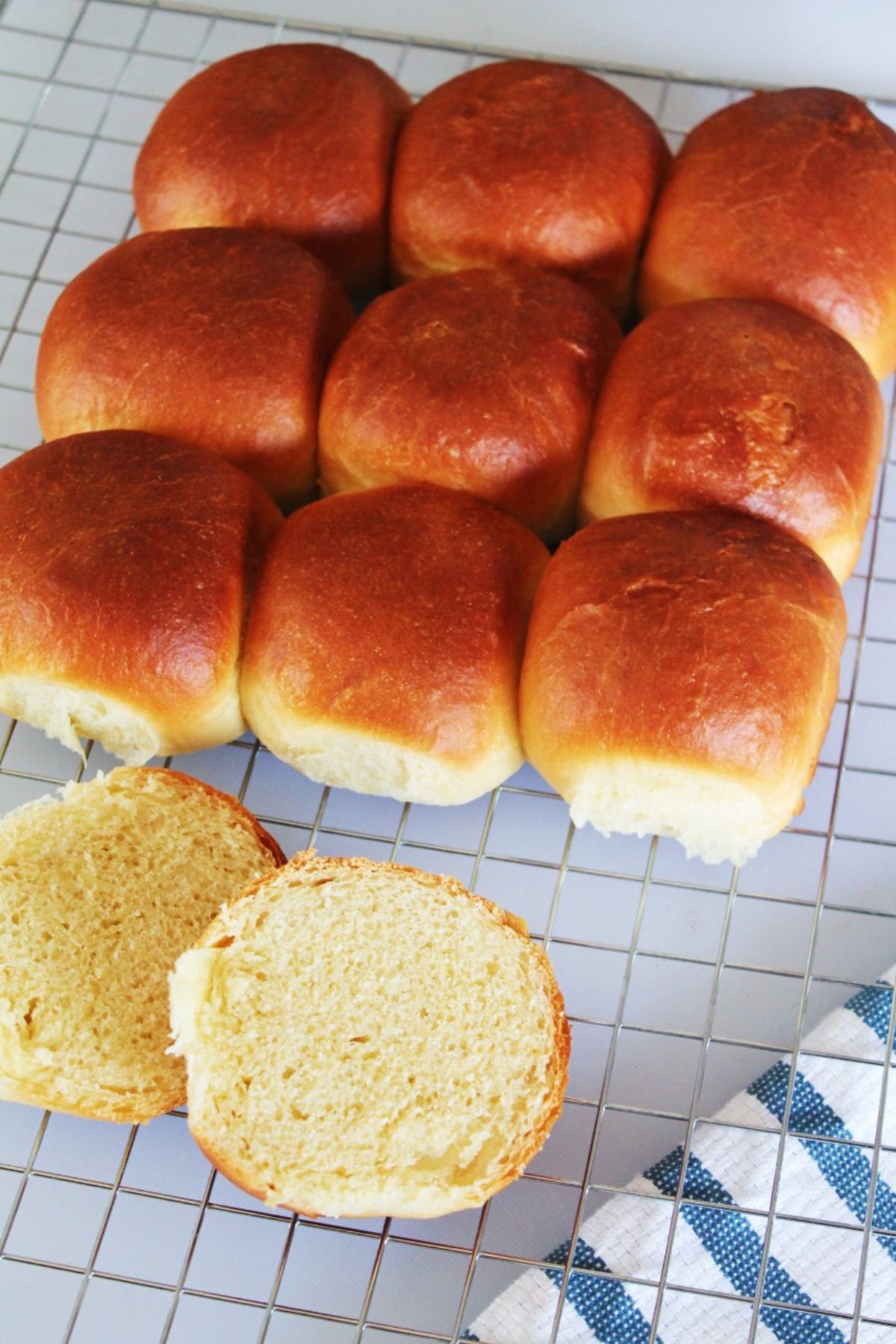 Storage
At Room Temperature: Once the rolls are cooled completely, place them in a Ziploc bag, or the pan covered with foil. Brioche rolls last for 3-4 days at room temperature.
Refrigerate: Brioche rolls can be stored in the refrigerator. Reheat the rolls in a microwave for 10 seconds, before serving.
Freezing: Brioche rolls freeze beautifully. Store them in freezer-friendly storage bags or containers, and they will last for a couple of months.
Thawing Frozen Rolls: When you're ready to enjoy the frozen rolls, remove them from the freezer and let them thaw at room temperature for a couple of hours or until they are soft and fully defrosted.
Reheating: To reheat room-temperature or thawed rolls, preheat your oven to 350°F (175°C). Wrap the rolls loosely in aluminum foil to prevent them from getting too brown and warm them in the oven for about 5 to 10 minutes. Alternatively, you can microwave individual rolls for a few seconds until warm.
Make Ahead Brioche Rolls Recipe
Follow the recipe, prepare the dough, and allow the dough to rise (First Rise). Shape the rolls, cover them, and refrigerate them overnight. They will rise overnight (Second Rise) and will be ready to bake in the morning. Allow them to come to room temperature for 20 minutes before baking. Bake and enjoy!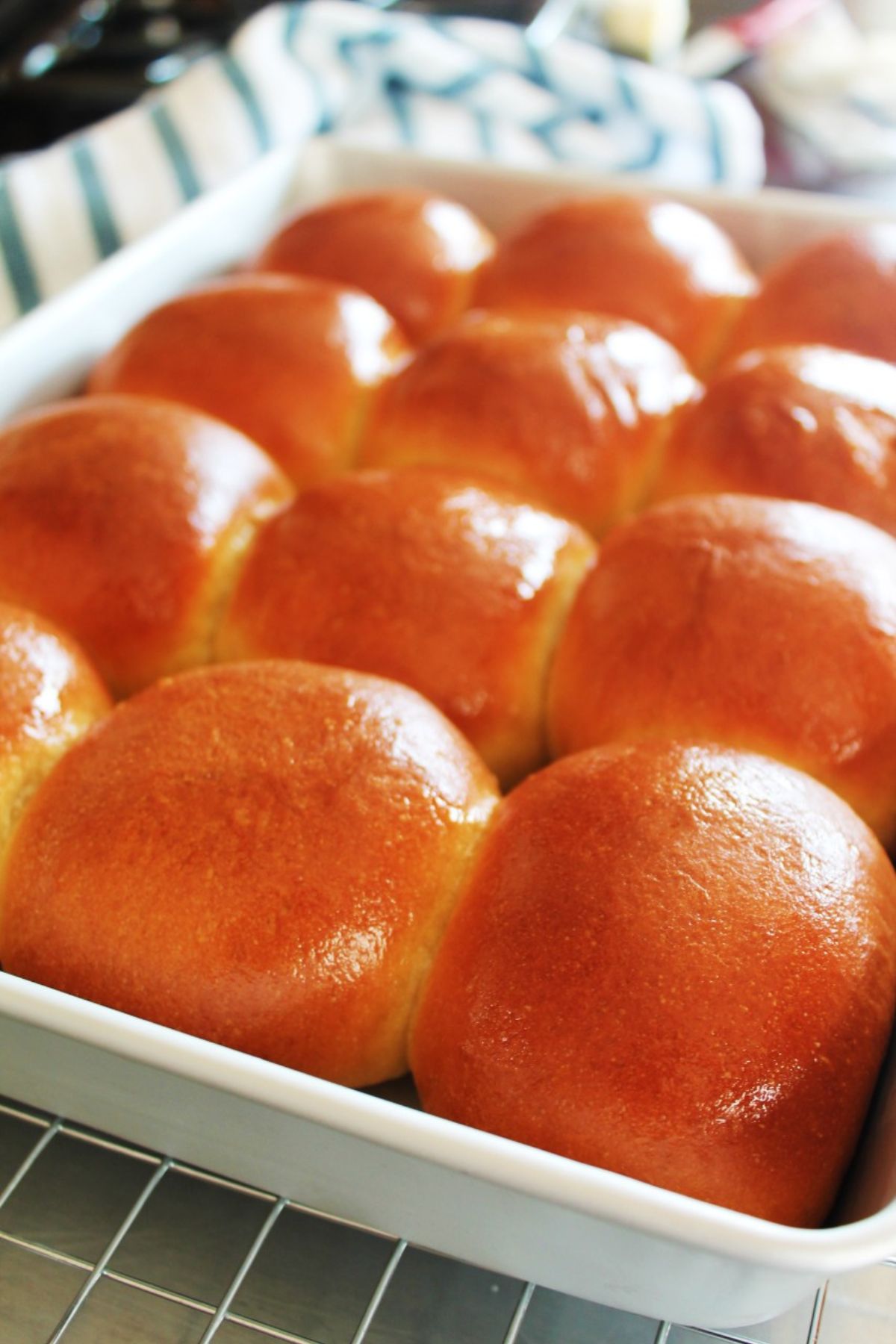 Tips For Brioche Roll Recipe
Here are some useful tips to ensure your Brioche Dinner Rolls turn out perfectly:
Use High-Quality Ingredients: Since the ingredients are relatively simple, using high-quality flour, fresh eggs, and good butter can make a significant difference in the final taste and texture of your rolls.
Proper Mixing: Be sure to mix the dough thoroughly, allowing the gluten to develop properly. You can use a stand mixer with a dough hook or knead the dough by hand until it becomes smooth and elastic.
Patience with Rising: Brioche dough needs time to rise adequately. Allow it to rise in a warm, draft-free environment until it doubles in size. This might take anywhere from 1 to 2 hours, depending on the room temperature and yeast activity.
Chill the Dough (Optional): For easier handling, chill the dough in the refrigerator for about an hour after the first rise. This will make it less sticky and easier to shape.
Shaping Techniques: There are various ways to shape Brioche Dinner Rolls, from simple balls to intricate Knots or Crescent Rolls. Practice different techniques to find the one you prefer.
Don't Overbake: Brioche has a higher butter content than regular dinner rolls, making it more prone to browning quickly. Keep a close eye on the rolls while baking to prevent overbrowning or burning. You can cover them with foil if they are browning too fast.
Brush with Egg Wash: Before baking, brush the rolls with an egg wash (a mixture of beaten egg and a little water or milk). This will give them a beautiful golden shine and add a touch of flavor.
Serve Warm: Brioche Dinner Rolls are best when served warm. If not serving immediately, you can reheat them in the oven for a few minutes before serving.
Storage: Store any leftover rolls in an airtight container at room temperature for up to a couple of days, or freeze them for longer storage. Just make sure to reheat frozen rolls before serving.
Get Creative: Don't be afraid to experiment with flavors and fillings. You can add herbs, cheeses, dried fruits, or even chocolate chips to the dough for exciting variations.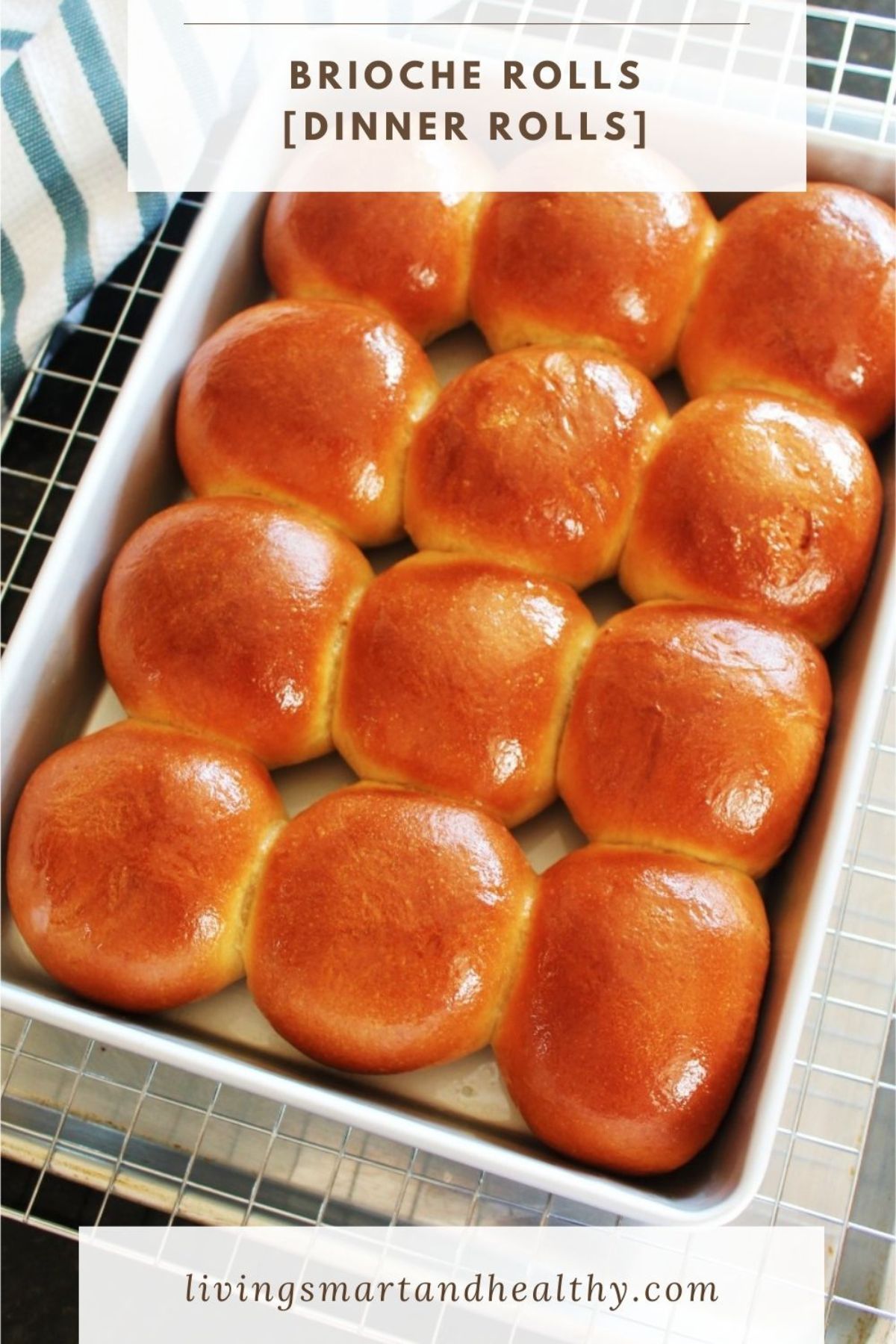 FAQ
What is the difference between brioche and dinner rolls?
The main difference between brioche and dinner rolls lies in their ingredients and texture. Brioche is a rich and buttery bread enriched with eggs, resulting in a tender, slightly sweet crumb, and a shiny crust, while dinner rolls are typically simpler in ingredients, softer in texture, and less sweet, making them a versatile complement to various dishes.
What is so special about brioche bread?
Brioche bread is exceptionally special due to its luxurious richness and indulgent flavor. Its high content of butter and eggs creates a tender, melt-in-your-mouth texture and a golden, glossy crust, making it a truly decadent and delightful treat enjoyed on its own or as a base for various sweet and savory creations.
What do you eat with brioche buns?
Brioche buns are a versatile delight, perfect for a range of delicious combinations. They complement juicy burgers, gourmet sandwiches, and pulled pork or chicken, and even make for delightful mini sliders when served with various fillings like cheeses, veggies, and condiments. Additionally, their slightly sweet flavor pairs wonderfully with jams, preserves, and creamy spreads, making them a delightful addition to breakfast or afternoon tea.
Is brioche bread better than normal bread?
Whether brioche bread is better than normal bread depends on personal preferences and the intended use. Brioche's richness and buttery taste make it a decadent treat and a great choice for special occasions, while regular bread may be preferred for everyday sandwiches and toasts due to its simpler taste and versatility.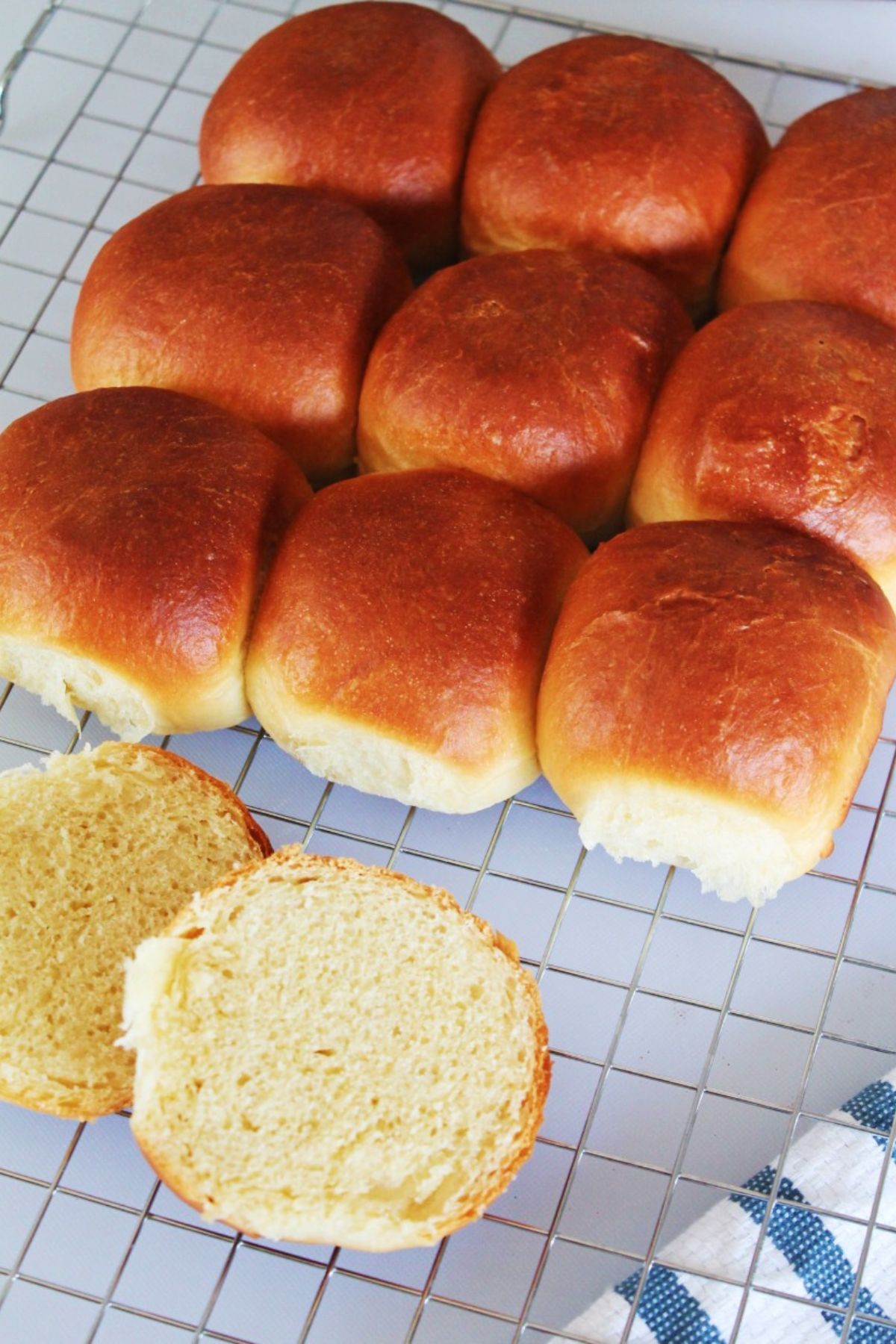 Serving
When it comes to serving Brioche Dinner Rolls, the possibilities are endless! Here are some delightful serving suggestions to make the most of these delicious rolls:
As a Side: Serve Brioche Dinner Rolls as a delightful accompaniment to soups, stews, roasts, or any main course. Their soft and buttery texture pairs perfectly with savory dishes.
Sliders: Split the rolls in half and fill them with your favorite burger patties, pulled pork, or grilled vegetables for gourmet sliders. These mini sandwiches are perfect for parties and gatherings.
Brunch Delights: Offer a basket of warm Brioche Dinner Rolls with an array of spreads like flavored butter, cream cheese, or fruit preserves for a sumptuous brunch treat.
Tea Time: Serve the rolls alongside a pot of hot tea or coffee for a delightful afternoon snack, perfect with a dollop of clotted cream or jam.
Sweet Desserts: Turn Brioche Dinner Rolls into sweet indulgences by topping them with whipped cream and fresh berries, or fill them with custard for mini brioche "cream puffs."
Bruschetta: Slice the rolls, toast them, and top with tomato, basil, and mozzarella for a tasty bruschetta appetizer.
Bread Pudding: Turn any leftover rolls into a delightful bread pudding dessert. Tear the rolls into chunks, soak them in a custard mixture, and bake until golden and luscious.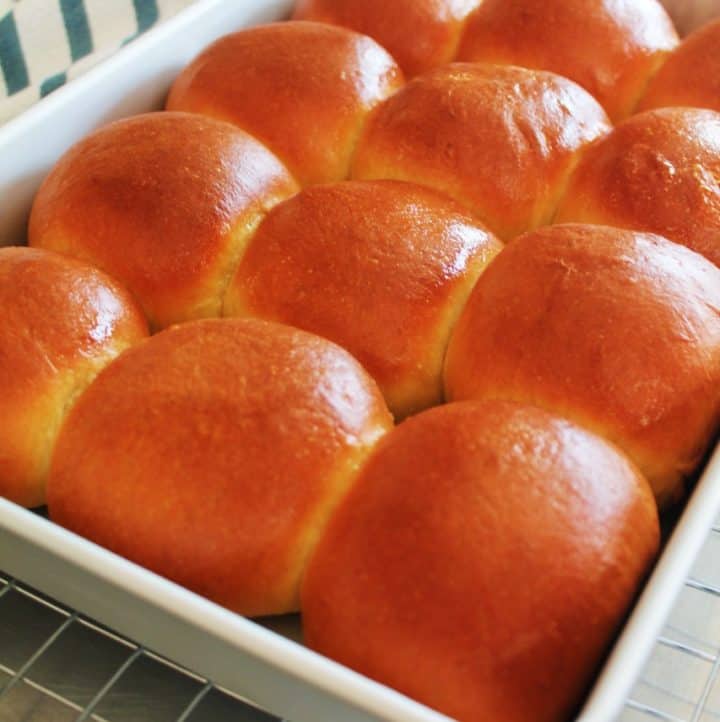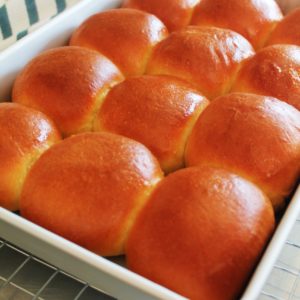 The Irresistibly Buttery And Indulgent Brioche Dinner Roll
The Irresistibly Buttery And Indulgent Brioche Dinner Roll! A perfect accompaniment to any meal, whether you savor them sweet or savory.
Ingredients
INGREDIENTS FOR BRIOCHE DINNER ROLLS
4

cups

All Purpose Flour

2 ¼

teaspoon

Active Dry Yeast [¼ oz Package of Active Yeast ]

1

cup

Milk, divided

⅓

cup

Unsalted Butter, softened

3

large egg yolks

⅓

cup

Granulated Sugar

1

teaspoon

salt

2

tablespoon

oil, for greasing

2

tablespoon

Unsalted Butter, melted (optional)
Instructions
PREPARE DOUGH USING STAND MIXER
Attach dough hook attachment to the stand mixer. In the bowl of a stand mixer, stir in yeast, ½ cup of warm milk [100*F – 110* F], 1 teaspoon of sugar. Let the mixture stand for 10 minutes, or until it turns frothy, and doubles in volume.

Note: If the yeast is active, the mixture turns frothy, and doubles in volume. If the mixture does not double in size, start the process again with fresh yeast.

In a microwave safe bowl, warm [100*F – 110*F] ½ cup of milk and butter, or until the butter just melts.

Note: The temperature of the mixture should be lukewarm [100*F – 110*F].

To the yeast mixture, add melted butter, egg yolks, flour, sugar, and salt. Beat the mixture on a low speed for 2-3 minutes, or until the flour is combined. Scrape the bowl occasionally.

Increase the speed to medium high, and knead the dough for 4-5 minutes, or until it forms into a smooth dough ball, and starts to leave the sides of the bowl.

Transfer the dough, onto a lightly greased work surface, and shape it into a ball.

PREPARE DOUGH BY HAND

Knead the dough until it is very soft, and elastic, around 20-25 minutes. Follow rest of the recipe as discussed.
FIRST PROOFING
Place the dough in a greased bowl and turn it once to grease the top.

Cover the bowl with a kitchen towel, and place it in a warm place, or in an oven with the oven light on for 1-2 hours or until it doubles in volume.

Note: Keep the oven turned OFF.
FIRST PROOFING [USING INSTANT POT]
Place the dough in the greased inner pot, and turn it once to grease the top.

Place lid, and cover the pot. Turn ON YOGURT (normal) for 1 hour.

Note: I used a glass lid that fits, to cover the inner pot.
DIVIDE AND SHAPE THE BRIOCHE DINNER ROLLS
Grease a 9*12 inch baking dish with some oil or butter, set it aside.

Transfer the dough onto work surface, and punch it down. Divide the dough into 12 equal pieces. Cover the pieces with a clean kitchen towel, while you work with a single piece.

Note: You can use a kitchen scale to precisely divide the dough into equal pieces.

Take a piece of dough ball, gather all the edges, and tuck them in the center. Turn the dough, seam side down, and roll it into a smooth ball.

Note: If required, sprinkle some flour on the work surface.

Place the rolled dough ball, seam side down, onto a baking dish. Cover with a clean kitchen towel while you roll the rest of the rolls.
SECOND PROOFING
Cover the baking dish with kitchen towel, and place it in a warm place or in an oven with the oven light ON for 45-60 minutes, or until the rolls have almost doubled in size.
BAKE THE BRIOCHE DINNER ROLLS
Preheat the oven at 375*F. Bake for 14-18 minutes, or until golden brown.

Rotate the baking dish halfway through for even baking.

Note: Place the baking dish on the lowest rack, to prevent the top from browning too fast. If the top of the rolls is browning quickly, loosely place a foil tent over the rolls.

Apply some melted butter on top, and enjoy warm, fluffy, buttery Brioche dinner rolls!!
Notes
Please refer to the post for the following :
Pro Tips For The Best Brioche Dinner Rolls
Frequently Asked Questions
Nutrition
Nutrition Facts
The Irresistibly Buttery And Indulgent Brioche Dinner Roll
Amount per Serving
% Daily Value*
* Percent Daily Values are based on a 2000 calorie diet.
Disclaimer
Nutrition values are my best estimates. If you rely on them for your diet, use your preferred nutrition calculator.
KEYWORD
brioche dinner rolls, brioche recipe rolls, brioche roll recipe, brioche rolls, brioche rolls recipe, recipes for brioche rolls
Related