Looking for the perfect Presents For Cooks this holiday season? Check out our latest Holiday Gift Guide blog post for curated ideas and inspiration to make your gift-giving memorable and stress-free.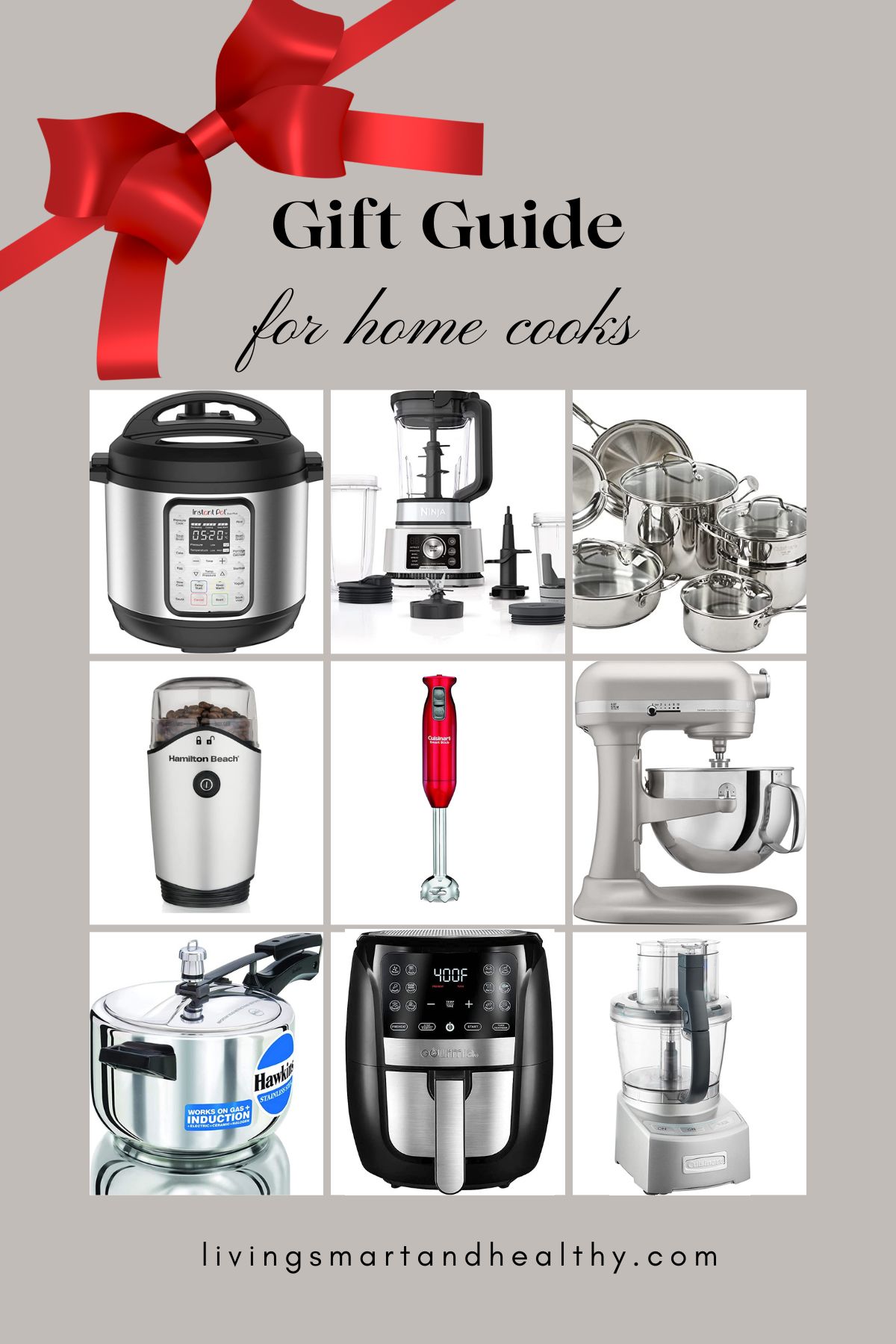 This holiday gift guide is a curated collection of gift ideas that is specially designed to provide inspiration and help individuals find suitable presents for cooks for their friends, family members, colleagues, or loved ones during holidays like Diwali, Christmas, Hanukkah, Thanksgiving, New Year's, and more.
It is this time of the year when I love to shop for my family, friends, and of course myself. The holiday season has just begun, and if you are looking for some useful kitchen gadgets, utensils, and cooking essentials, I have you covered. Sharing my favorites to keep home cooking fun and easy using these kitchen gadgets.
Here you will find something for a novice to an expert cook and for every budget. This a thoughtful gifts guide that will help you find the perfect gift for your loved ones.
I hope you will enjoy this Holiday Gift Guide as much as I did putting it together for you!
Jump to:
Instant Pot (Electric Pressure Cooker)
One smart investment I made 5 years back was buying an Instant Pot. With all the busy schedule, taking kids back and forth for the activities, I am at peace that I have a warm meal pot ready to be devoured when I return home.
I am so happy with this smart pressure cooker and highly recommend buying one for your kitchen or a cooking presents for your dear ones. I have invested in 3 Instant Pots 5 quarts, 6 quarts, & 8 quarts.
For my daily cooking, I mostly use 6 quarts. When I have guests over or when I do meal planning, I use my 8 quarts Instant Pot. Here's an Amazon link to 6 quarts of Instant Pot & 8 quarts of Instant Pot I use.
Stovetop Pressure Cooker
Growing up in India, I have seen my mom use this Hawkins pressure cooker every single day. When she comes over she likes to use this pressure cooker. If you looking for a stovetop pressure cooker, this is an excellent choice. I have been using this pressure cooker for over 20 years now. 
Air Fryer
I just fell in love with this air fryer the first time I used it. It is so good! It not only cooks food in a fraction of the oil but is also a huge time saver. I find cooking in an air fryer more convenient than the conventional oven.
I love this Gourmia air fryer. It is a perfect size for a family of 4-6. If you are looking to invest in an air fryer, you can check out my Amazon link for a 5-quart Gourmia Air Fryer.
Pots & Pans
Any kitchen would be incomplete without the basics. I love using stainless steel & cast iron pots & pans for cooking. I am not a fan of non-stick, & try to avoid it as much as I can.
Over the years I have invested in stainless steel & cast iron utensils, and I am very pleased to share my experience. These pots & pans are for a lifetime.
I have been using these for over 2 decades without any issues. My family & friends know how much I love these, and in fact, I got a few of them as my birthday present.
Cast Iron Cookware
I love, love cooking in these cast iron pans. Food is cooked to perfection, never burnt or sticky food, just perfect. Until I bought one, I always used to think that cast iron pans were high maintenance, but I was so wrong. They require the least maintenance among all kitchen essentials and are for a lifetime. I have a few cast iron skillets, woks, and griddles.
Lodge Skillets: 8-inch, 10-inch, & 12-inch
Lodge griddle: 10-inch & 15-inchpizza pan
Stainless Steel Cookware
I highly recommend Cuisinart stainless steel pots and pans. I have been using these for over 2 decades now. Easy to clean and maintain, as good as new even after using them for years. Every penny is worth spend!
While you could buy a set of these pots & pans. I bought them individually, based on my requirements. Sharing an Amazon link to a few of the must-haves in my kitchen.
Stand Mixer
Love homemade bread? Then this is a perfect addition to your kitchen. I love my 6-qt professional series Kitchen-aid stand mixer. I use it almost every day to make dough for roti, paratha, or naan.
It comes with various attachments you can use for your convenience. I love to bake and this stand mixer makes my life so easy. There's nothing more satisfying than freshly baked bread!
A present for someone who loves to cook or bake would be thrilled to have one. Star Bread, Chocolate Babka, New York Style Bagels, Honey Oat Bread, Crescent dinner rolls, and Challah are some bakes you might enjoy making using this stand mixer.
Food Processor
Food processors are a great addition to any kitchen. It comes in handy for prepping the food and is a huge time saver. I love to use a food processor for grating tons of carrots for Gajar Ka Halwa, Chocolate Zucchini Bread or making dips.
Meal prep becomes so easy when using a food processor. I love this Cuisinart food processor, and I have had it for over 10 years. It is one of the best gadgets for your kitchen.
Blender
When we talk about the olden days, my grandma used "Hamam Dasta" or "Okhli" (Mortar and Pestle) to grind most things from pulses, chutneys, or masala.
I remember, when I visited my grandma in the 1990's she had this huge stone, which we call "Silbatta" which she used for grinding the stuff. I call it a labor of love!
She took immense pleasure in cooking for her family. Her passion for cooking showed her love and dedication towards her family. I would love to use mortar and pestle but it is not practical these days. So I found this Ninja blender, which I am so pleased with.
It does an amazing job of grinding the batter for dosa, & idli. I also use it to make chutneys, soups, and dips. It makes the creamiest hummus, so much better than the store-bought. To make smoothies, shakes, pancake batter, and salsa. It's easy to use and clean.
Immersion Blender
This hand blender comes in so handy to make puree right in the pot. I use this Cuisinart immersion blender to blend soups or puree sauce. Have had it for almost 10 years and is still working great. It's quite compact and a great addition to your kitchen. Looking for a presents for cooks within budget, this makes a great cooking presents.
Chopping Knife & Peeler
A good chopping knife, a pairing knife, and a peeler are what you need on daily basis. I have tried different brands of knives and eventually settled with one that I like. When it comes to a knife, I believe if it fits in your hand, you will enjoy working with it. I will leave a link to the one that I use, just in case you would like to try it.
Chopping Board
I love this wooden chopping board. It makes chopping fruits and veggies so much fun. It's low maintenance and quite inexpensive. I think I wouldn't mind having a second one in my kitchen.
Spice Grinder
The aroma of freshly ground garam masala, roasted cumin powder, chai masala, sambar powder, pav bhaji masala, or biryani masala is unbeatable.
I love making homemade masalas, and this Hamilton Beach coffee grinder does an amazing job of grinding spices to perfection. It's a compact and inexpensive gadget for grinding dry spices. I use it mostly for grinding homemade masala.
Measuring Cups & Spoons
Measuring cups & spoons are not just for baking, but also for making recipes. I love these Accmor measuring cups & spoons, they make a perfect presents for cooks. As I love stainless steel, they make a great addition to my kitchen.
Colander
Prepping food is key to making delicious recipes. This ExcelSteel colander is apt for prepping food. I love this colander and have been using them for a very long. Easy to clean, scratch resistance, and quite affordable. I also use it to store fruits and veggies.
Mixing Bowls
I use these stainless steel mixing bowls from JoyTable, almost every single day. For mixing the food, and prepping. These mixing bowls can be used for many things. These are very good quality, inexpensive, and make an excellent cooking presents for home cooks or bakers.
Let me know below which is your favorite kitchen gadget! Do share this cooking presents guide with your family and friends. Happing Holidays!
FAQ's
What do you get someone who cooks for Christmas?
For someone who loves cooking, consider a thoughtful and unique kitchen gadget or a high-quality set of culinary tools as a Christmas gift. Alternatively, you could also opt for a cookbook featuring their favorite cuisine or a personalized apron to add a personal touch to their kitchen endeavors.
What do you get a home cook that has everything?
For a home cook who seems to have everything, consider gifting them a gourmet food basket filled with unique ingredients, spices, or new kitchen products to inspire their culinary creativity. Alternatively, a cooking class or a subscription to a specialty food or ingredient delivery service can provide them with new experiences and flavors to explore.
What do you gift someone who likes to cook?
A great gift for someone who enjoys cooking is a high-quality kitchen gadget or a set of versatile cooking utensils to enhance their culinary skills. Alternatively, consider a cookbook featuring unique recipes or a gift card to a gourmet food store, allowing them to choose their favorite ingredients.
What to get someone who wants to learn how do you cook?
For someone eager to learn how to cook, a thoughtful gift would be a cooking class or a subscription to a meal kit delivery service, which provides step-by-step instructions and pre-measured ingredients for easy learning. You could also include a basic cookbook with beginner-friendly recipes to help them get started on their culinary journey.