The top 25 most popular Living Smart And Healthy recipes of 2022! These amazing recipes are the ones that are tried, shared, and much loved by my readers.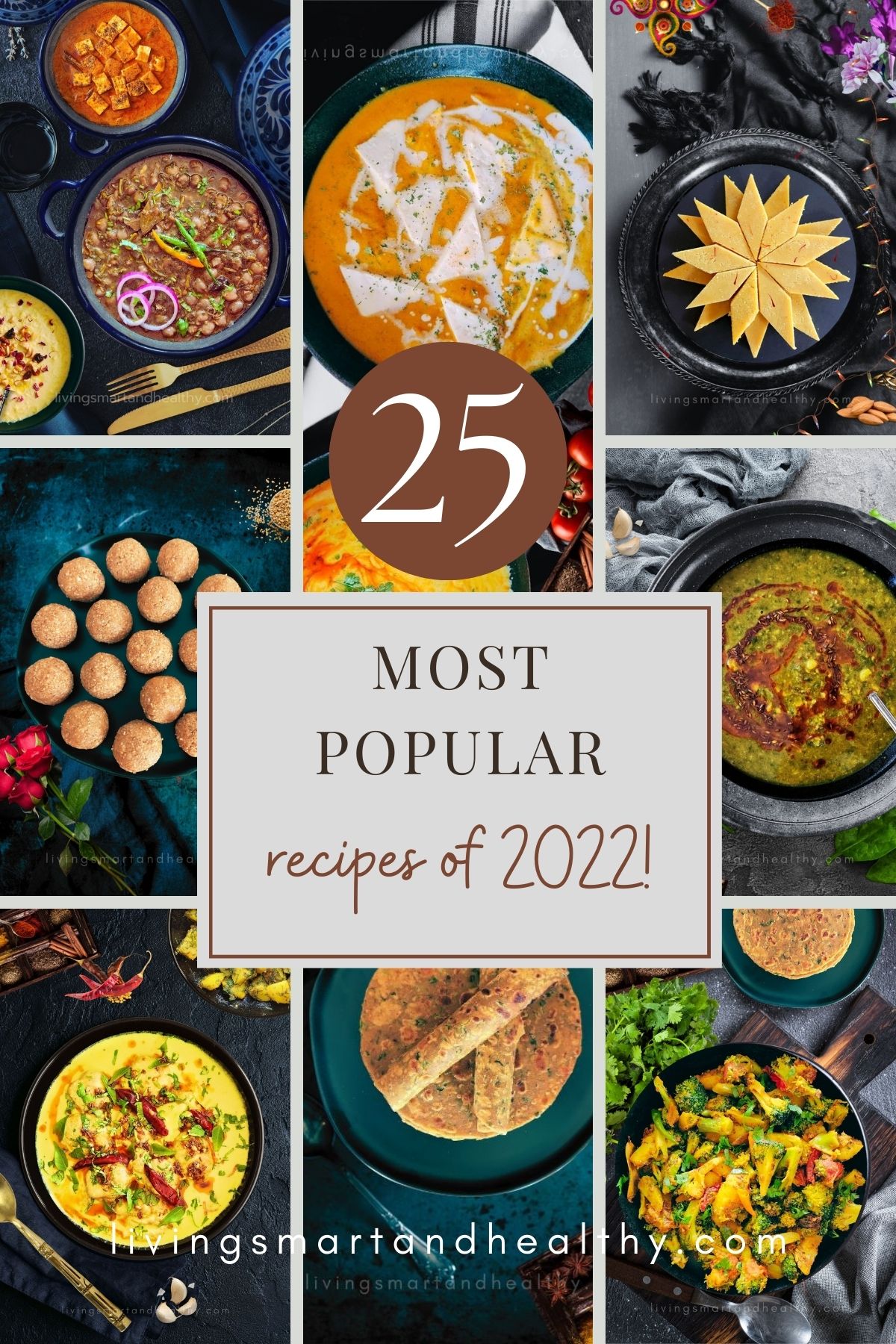 Top 25 Most Popular Recipes of 2022
Well, we are almost at the end of the year and it's time to say goodbye to 2022 and welcome 2023! Sharing the top 25 most popular Living Smart And Healthy recipes of 2022! Here you will find an awesome collection of recipes from appetizers, hearty soups & chili, nourishing breakfasts, effortless main courses & side dishes, and decadent desserts. You can find these and many more on my blog - livingsmartandhealthy.com
Thank you all for trying my recipes, and for your valuable feedback, comments, and email. It keeps me motivated to do even better. I love putting up these end-of-the-year roundups. It is always nice to look back, appreciate all the accomplishments, learn and grow.
Hope you will enjoy these 25 amazing recipes and many more from the blog. If you try any of my recipes, do share your valuable feedback, it means a lot to me.
May this 2023 fill your heart with love, your home with joy, and your life with laughter.
Happy New Year!
--Jyoti Behrani
(Living Smart And Healthy)
Appetizers
1. Air Fryer Chicken Nuggets
It's so easy to make these delicious nuggets at home! Crispy on the outside, juicy on the inside. They are great for weeknight dinner, game day snacks, appetizers, or even lunch!
2. Homemade Hummus
Silky smooth, and incredibly easy to make, this homemade hummus recipe is the perfect dip to serve with pita chips, veggies, and more! Learn how to make the creamiest homemade hummus every time, without peeling the chickpeas!
3. Salsa Verde
Enjoy this salsa Verde on your next taco night. This green goodness Salsa Verde is delicious, has just the right amount of heat, and is better than the store-bought.
Soups & Chili
4. Instant Pot Butternut Squash Soup
This Instant Pot butternut squash soup is creamy, healthy, and packed with fall flavors. This delicious soup is easy to make using an Instant Pot! It's easily made vegetarian or vegan!
5. Green Moong Dal
The green moong is cooked along with some onion, tomatoes, and some aromatic Indian spices. This hearty, delicious, green gram curry can be served over some steamed white rice or enjoyed as a soup. This recipe is vegan and gluten-free.
6. Haryanvi Kadhi
There are many variations of kadhi depending upon the different regions in India. It consists of a thick gravy made with besan (chickpea flour) and may contain vegetables, vegetable fritters called pakoras, or simply plain. It is served with steamed rice or roti.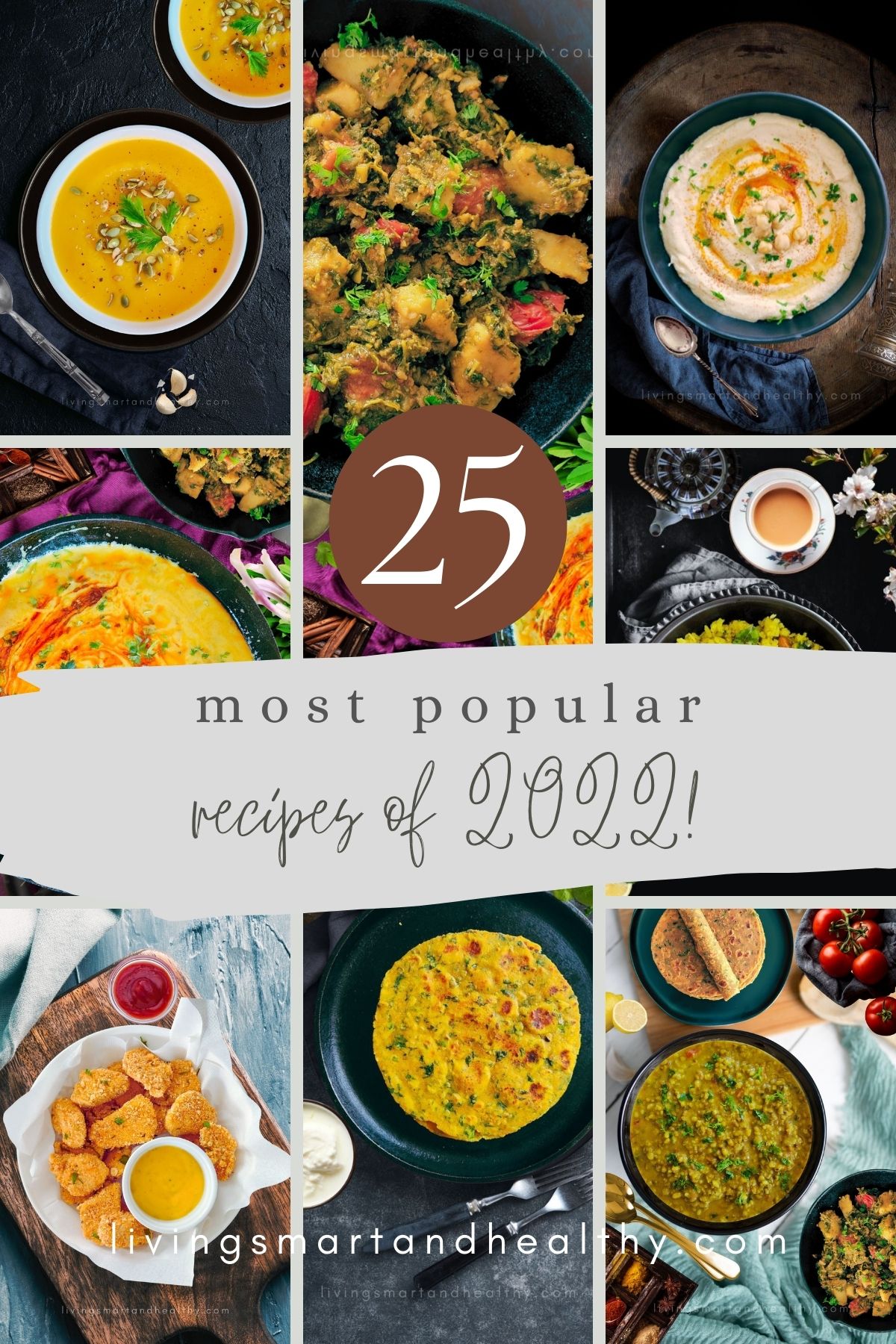 Breakfast
7. Tofu Palak Paratha
Tofu Palak paratha is an unleavened Indian flatbread that is crisp on the outside, and soft on the inside. Packed with nutrients, this tofu palak paratha is made with healthy spinach spiced with carom seeds, aromatic Indian spices, and 100% whole wheat flour.
8. Multigrain Methi Thepla
These multigrain methi theplas are adaptable and perfect for any time of the day. They are nutritious with an earthy flavor. Serve this healthy and delicious thepla with some pickle, chutney, and a cup of hot chai.
9. Poha
Poha is made with flattened rice, onions, and potatoes. Tempered with cumin seeds, mustard seeds, and curry leaves. Flavored with basic Indian spices, nuts, and freshly squeezed lemon juice.
10. Til Ke Laddu
Growing up in India, til laddu was my favorite. Winters would be incomplete without these melt-in-mouth, delightful laddus. Til laddu is quintessential during winters and especially during Makar Sankranti.
Main Course
11. Methi Chole
Chickpeas and fresh fenugreek leaves curry is delicious, easy to make, and a great source of fiber and protein. This recipe is gluten-free and is ready in about 40 minutes.
12. Hyderabadi Dahi Ki Kadhi [Kadhi Pakoda]
Hyderabadi Dahi Ki Kadhi is a popular dish from Hyderabad, India. It's a yogurt-based thick, soupy consistency kadhi with chickpeas flour fritters or pakoras, seasoned with some aromatic Indian spices and served over steamed rice. Great comfort food for a cold, wintry night.
13. Kashmiri Paneer Masala
Kashmiri Paneer Masala is a popular dish from the Northern State of Kashmiri. A very simple and mild preparation of paneer dish, that uses whole spices, a few aromatics, and simmered in a tomato puree.
14. Pressure Cooker Sai Bhaji [Spinach Dal]
Sai bhaji or spinach dal, is one of the popular dish from Sindhi/Indian Cuisine. Sindhi cuisine is known for its rich and nutritional food. Sindhi Sai Bhaji or Spinach dal is a power pack of wholesome nutrients. Spinach and lentils give a nice balance of nutrients to this dish. "Sai" in Sindhi means "green" and "bhaji" means "vegetables".
15. Paneer In Veggie Sauce
Versatile, and adaptable, the paneer in the veggie sauce is a delicious Indian curry made with colorful veggies and paneer. Luscious and rich paneer with velvety smooth sauce, soft cubes of paneer, and a ton of flavors make this dish one of the best Paneer dishes.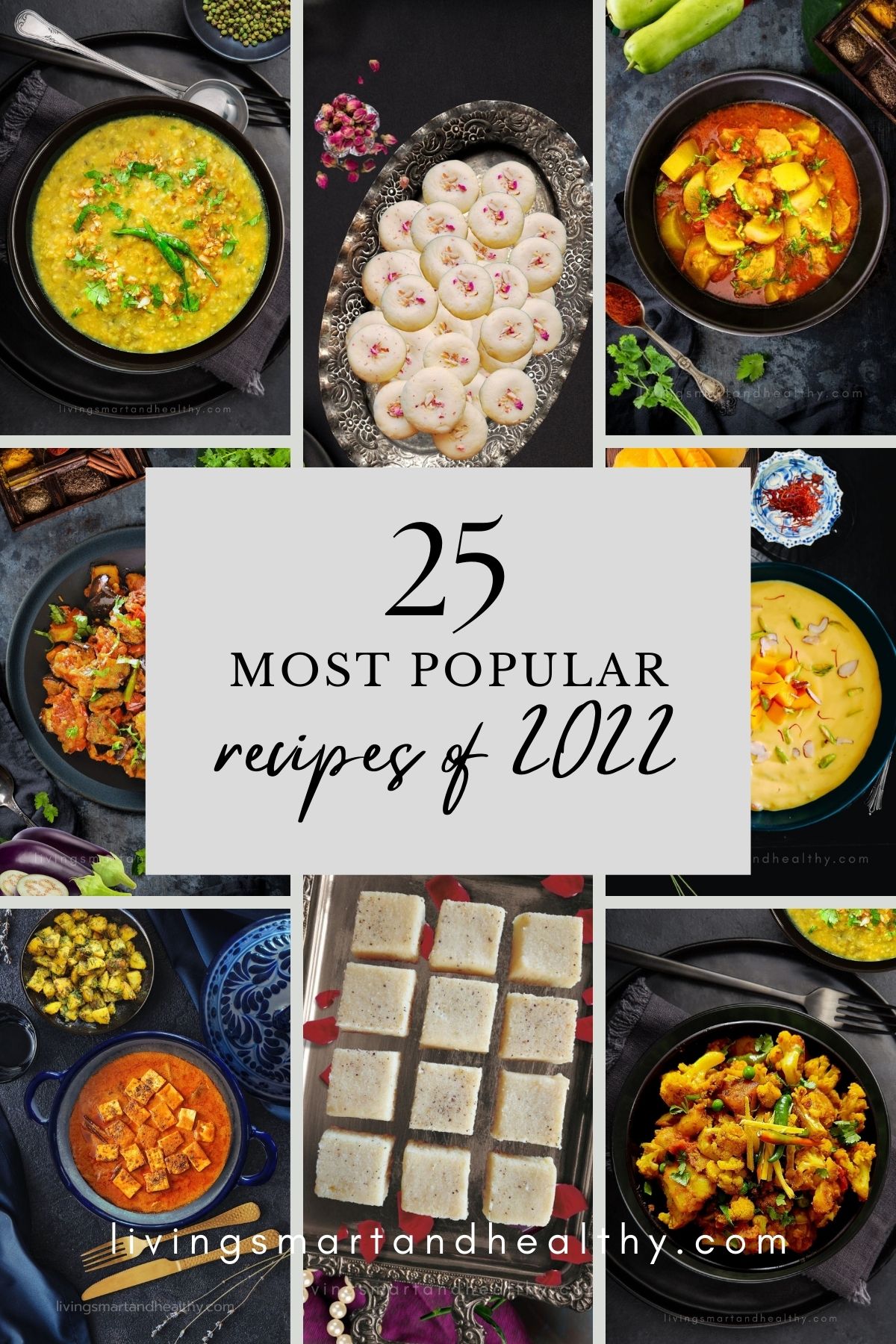 Side Dishes
16. Aloo Gobi Matar [Spiced Potato Cauliflower Peas]
A humble Indian curry made with potato, cauliflower, and peas with all quintessential flavors of Indian cuisine! It's flavorful, healthy, and loaded with herbs and spices.
17. Baingan Tamatar Ki Sabzi
A delicious vegan and gluten-free recipe from India – Baingan tamatar ki sabzi. A quick and easy eggplant curry that is perfectly served as a main dish or a vegetable side with curries, rice, and bread.
18. Sindhi Methi Aloo
Sindhi methi aloo is a delicious and healthy preparation of potato and fresh methi leaves cooked together. A perfect midweek meal, simple and delicious, perfect with roti, paratha, or naan.
19. Broccoli Aloo [Indian Broccoli Potato Stir Fry]
Broccoli aloo, Inspired by a classic Indian dish aloo gobi, spiced cauliflower with potatoes. This broccoli aloo is a flavorful twist, replacing gobi with broccoli. This lip-smacking dish is a family favorite. Enjoy this Indian dish with roti, paratha, or naan.
Desserts
20. Milk Peda
Rich, creamy, and melt-in-mouth, this peda (milk fudge) is made with ricotta cheese, and milk powder, and is flavored with aromatic cardamom powder. A quick and delectable Indian dessert perfect to celebrate this Diwali.
21. Lauki Ki Kheer
During festivals and fasting (vrat) season, kheer is a quintessential. It is one of the easiest desserts to make and even a beginner can make kheer.
22. Sooji Ka Halwa
Make this delicious halwa in less than 20 minutes with simple 3-ingredients! This recipe is make-ahead and freezer-friendly.
23. Badam Katli [Almond Fudge]
I love these quick fixes. It is so convenient, no need to peel or grind the almonds. Simply use the store-bought almond flour and you can turn it into this amazing badam katli.
24. Coconut Burfi
Coconut burfi (Barfi, or Barfee) is a popular Indian sweet made with fresh or dry desiccated coconut, milk, and sugar and flavored with some green cardamom.
25. Mango Shrikhand
A classic Indian dessert, Mango shrikhand is a quintessential summer dessert. Enjoy this chilled Mango Shrikhand on a hot summer day!
TRIED THIS RECIPE?
Hope you enjoy these recipes!! If you give this recipe a try, please rate the recipe by clicking the stars
on the recipe card. Leave a comment and share your experience. Thank you
You can also follow me on Facebook, Pinterest, and Instagram for all the latest on my blog!! Subscribe to my Youtube Channel for easy and delicious video recipes. Happy Cooking!!